This week I attended, along with managers representing offices from I&A, CFO, PA&E, and HCMO, a training session on how to realize better efficiencies within the internal NASA processes using the Lean Six Sigma process.  The exercise was lead by Patty Fundum from Marshall Space Flight Center and Mark Adrian with Adrian Technologies Incorporated.  Below is a brief explanation of Lean Six Sigma that I hope you find useful.  Many Centers and programs have already fully embraced Lean Six Sigma.  I look forward to the implementation of this management tool across NASA.
Lean and Six Sigma are widely used in industry as continuous improvement best practices.  They are also very complementary in nature and, if performed properly, can produce unprecedented results.  Lean focuses on eliminating non-value added activities in a process and Six Sigma focuses on reducing variation from the remaining value-added steps.  Lean provides speed ensuring products and services flow without interruption while Six Sigma ensures that critical product / service characteristics are completed correctly the very first time we do them.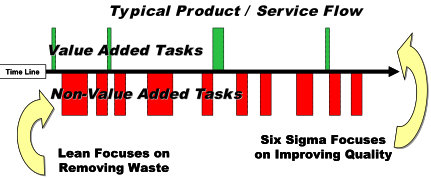 NASA is using Lean Six Sigma (LSS) as an approach that combines Lean manufacturing and Six Sigma from a global perspective to take both suppliers and customers into account.  This approach tells us how to improve our processes in a way that considers both the costs of poor quality and issues critical to customer requirements. In addition to manufacturing processes, we have had great success in applying LSS to operational, transactional, and service processes.  Recognizing that the greatest value of LSS can be obtained during Pre-Proposal, Proposal Evaluation and Program Evaluation activities we are currently evaluating where best to begin this application of LSS.
Committed leadership, education, and institutionalization are essential to successful application of Lean Six Sigma.  Together, with Adrian Technologies Incorporated, we have developed our own training and deployment program to create "in house" Lean Six Sigma experts otherwise known as "Champions, Green Belts and Black Belts" who have successfully lead over 200 strategically aligned projects.
We are using LSS as a defined approach to synthesize the use of established tools and methods.  Its methods are divided into two approaches.  One approach is called Design For Six Sigma, and generally used when designing new systems or processes.  The other approach, used for process improvement, is called the Vision-Define-Measure-Analyze-Improve-Control approach.
To date, nine Centers have personnel who have attended NASA's Lean Six Sigma training program and three field Centers are actively engaging broad scale deployment.  Once again, I would like to thank Patty and Mark for their efforts.  If you would like additional information please contact Patty directly at the NASA Lean Six Sigma Management Office at 256.544.8436 or by e-mail at patricia.s.fundum@nasa.gov.
LaunchFest at Goddard Space Flight Center
Also, this week I wanted to briefly mention LaunchFest which will be held Saturday, Sept. 13, at the Goddard Space Flight Center (GSFC).  LaunchFest will celebrate Goddard's upcoming missions as well as highlight NASA's 50th Anniversary.  The Center will be open to the public and they anticipate that more than 10,000 people will attend.  LaunchFest will be another great outreach effort to the Center's community.