NASA plays an important role in motivating young people to pursue STEM fields. I have spent a lot of my time, while at NASA, speaking across the nation on NASA and our mission. Without exception, the one topic for which everyone has an opinion is education and lively discussions typically ensue.  Below is a sampling of what the NASA Office of Education is doing to inspire our next generation of explorers.  
STS-125, the Hubble Space Telescope servicing mission, is scheduled for launch on October 10, 2008, and the NASA Office of Education will use the opportunity to engage the education community across the nation in several ways. In addition to a pre-launch education forum in Cocoa Beach, FL, for the informal education community, we have developed a poster, mission decal, lithograph, and a CD-ROM. These resources will be available online through a new Hubble education Web site that will go live September 16, 2008.  
Along with the expanded resources for the Hubble Space Telescope, teachers now have access to an enhanced NASA education Web site that allows the user to search our vast library of curriculum support materials. Over 1,500 classroom activities, video learning clips, posters, and lesson plans are available to download and use for all NASA content in school or at home.
Picture at left: Students are helping NASA explore lunar plant growth through NASA's Engineering Design Challenge: Lunar Plant Growth Chamber.
One such activity, the Engineering Design Challenge (EDC), has allowed over one million students in all fifty states to design Lunar Plant Growth Chambers.  This challenge was designed for K-12 students to provide ways to grow plants during long-duration space missions.  Last year, on STS-118, basil seeds and lettuce seeds were flown and are now growing in Lunar Plant Growth Chambers on Earth; nearly eight thousand schools nationwide are now filled with the smell of cinnamon basil. There is activity outside the classroom too, as participants in over 200 museums and science centers and 300 after school programs are busy building and testing the chambers. It will be interesting to follow the results.  
NASA also will bring college students from across the nation to all of its ten field centers this fall through the Undergraduate Student Research Project.  Ninety-six talented students will make their presence known as they participate in 10- to 15-week research internships with NASA researchers. This highly competitive project has selected some of the best and brightest young minds to contribute to the work of our engineering, physical sciences, Earth, space, atmospheric and computer science labs.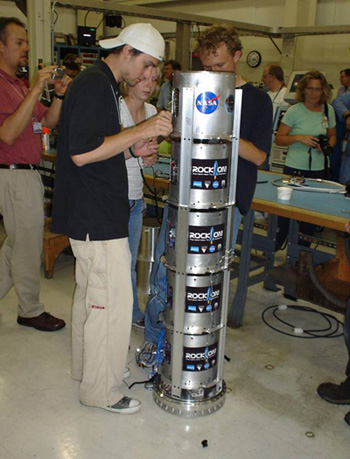 Picture at Left: University faculty and students participate in RockOn! — a workshop June 22-27 at NASA's Wallops Flight Facility on Wallops Island in Virginia
While the Undergraduate Student Research Project students are gaining work experience at NASA, thousands of other undergraduates will be involved in NASA's science and engineering efforts through the National Space Grant College and Fellowship Program. Over 500 colleges and universities from the fifty states, the District of Columbia, and Puerto Rico participate in this program which was established by the National Space Grant Act in 1988. Space Grant consortia provide scholarships to students, collaborate with our mission directorates on research, and work closely with us to educate and employ U.S. citizens, especially women, underrepresented minorities, and persons with disabilities.
Picture at Left: LaRC Electrical Engineer and mentor Tom Jones and USRP student, David Gerhardt, are in front of their programmetric experiment for the Ares I rocket. Credit: Rachel C. Samples
In spring 2009, Kepler will launch from the Kennedy Space Center. Kepler is a space-based telescope specifically designed to measure light intensity of stars and also is NASA's first mission capable of detecting planets the size of Earth or smaller near stars like our sun.  To engage students in the Kepler mission, it will carry the names of students who register online. For more information about how to Send Your Name into Space with the Kepler Mission. Over three million names traveled to Mars with rovers, Spirit and Opportunity, and we hope to break that record with Kepler.
As part of the International Year of Astronomy (IYA) in 2009, NASA is establishing a Student Ambassadors Program, to encourage undergraduate and graduate students to participate in NASA's IYA activities and to help generate excitement about NASA scientific discoveries in astrophysics, planetary science and solar physics.
As I travel the country and talk to people about NASA, they continually describe the importance of NASA's role in engaging students and educators. NASA's unique ability to inspire and educate draws from the extraordinary endeavors we undertake and the amazing feats that the people of NASA achieve every day.