NASA was formed on October 1, 1958, and we will soon be kicking off our 50-year anniversary celebration. We have so many accomplishments to celebrate from the past 50 years and a great deal on which to focus in the future. NASA has brought real benefits to our society in security and prosperity, in inspiration and innovation, and in saving lives and protecting the environment.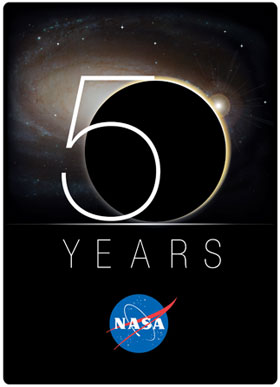 NASA 50th Anniversay logo
Every decade has brought advances to our society from the space program. Remote medical monitors were developed for physicians to monitor the health and fitness of astronauts during Project Mercury in 1960s. The Landsat Earth-observing satellites first launched in the 1970s to observe the climate and environment to benefit agriculture and global climate change research.  Recently developed technologies include paper-thin solar cells and advanced water recyclers. A lot of effort has gone into describing NASA-related technologies in a not-too-technical way that the average person can understand. Check out the new top 20 list of NASA-related technology spinoffs
We have a tremendous number of accomplishments from the past 50 years to commemorate, but we are also looking to our next 50 years and all the achievements these years will bring. We plan to continue to explore our solar system and beyond. The James Webb Space Telescope will provide even more data, furthering the great body of knowledge gained by the Hubble Space Telescope, and we will come even closer to understanding the properties and origins of our universe. Our Earth observation program will continue to launch missions and analyze data to help us better understand our climate and environment. We will complete and begin using the Ares and Orion spacecraft to go to the Moon to establish a lunar outpost for long-term human presence, and then go beyond. We will continue our aeronautics research program to enhance the safety and performance of our aircraft. All of these efforts will result in as-yet-unknown additional innovations.  We strive to continue to inspire the public and encourage our young people to pursue careers in math, science, and engineering.
NASA 50th Anniversary Events
NASA is planning the following events as part of our 50th anniversary celebration of our past and our future:
Annual Goddard Autumn Event at the National Air and Space Museum (NASM) — This will be the official opening of the Agency's 50th anniversary calendar on October 3, 2007. Dr. John Mather, 2006 Nobel Laureate in Physics will present duplicate Nobel Prizes to NASM and NASA and provide a presentation on how the James Webb Space Telescope will find the first galaxies formed in the early Universe.
NASA Lecture Series — The Series is focused on reaching policy-makers and specific target audiences with information about NASA programs and results, and how those results benefit society in various ways. Dr. Griffin opened series with lecture on September 17th in Washington, DC.
Commemorative 50th Anniversary Magazine — The magazine will be published by Faircount Publishing in cooperation with NASA. The company will provide copies for all NASA employees, articles to feature stories about past, present and future with special emphasis on NASA people.  It is scheduled to be released in October 2007.
Conference on the 50th anniversary of the Space Age — The NASA History Division and the National Air and Space Museum History Division will hold this conference, to be held in Washington DC on October 22-23, 2007, in conjunction with the 50th anniversary meeting of the Society for the History of Technology. The conference is titled "Remembering the Space Age," and encompasses two main themes:  (1) National and Global Dimensions of the Space Age, and (2) Remembrance and Cultural Representation of the Space Age. 
NASA Future Forums — In conjunction with corporate sponsors, NASA is developing a series of Future Forums around the country. Future Forums are day-long conferences to discuss the role of innovation and competitiveness (technology, R&D) in promoting and sustaining economic development. Participants will include members of the local entrepreneurial, technology and academic communities as well as elected officials. The first Future Forum is scheduled for January 2008. 
Business Week Magazine — The magazine reaches an audience of 4.8 million readers and will produce one or more special advertising sections in 2008 highlighting NASA's 50th anniversary and its contributions to technology, innovation and leadership in space exploration and research.  These sections will help to explain the role of the "space economy" and NASA's contributions to innovation and competitiveness for the Nation.    
Smithsonian 2008 Folk Life Festival — This event provides NASA the opportunity during our 50th Anniversary year to promote our mission activities and to present the heritage of our scientists, engineers, astronauts and craftspeople to a huge, ethnically diverse audience. NASA will be the featured Federal government agency for festival. The Folk Life Festival opens the end of June 2008.   
Television and Film — NASA plans to collaborate with Discovery Channel on a four part series on NASA's Greatest Missions, due out in October 2008. NASA also is working with History Channel on 50th Anniversary programming. 
NASA 50th Anniversary Celebration Gala — The gala will be produced by the AIAA at the National Air and Space Museum Udvar Hazy Center on September 24, 2008. This featured event will culminate a year of celebration of NASA's 50th Anniversary. 
Arts and Culture Initiative — The NASA@50 Arts and Culture Program consists of primarily ten works of art along with five cartoons from artists that have supported/captured/documented NASA over the years. The works should be completed in time for the NASA 50th Anniversary Celebration Gala where they will be displayed. The collection will then go on tour to museums, galleries, and science centers around the country.
For information on the above events, please contact Bob Hopkins, NASA Chief of Strategic Communications.