Wired/NextFest 2007
On Thursday, September 13, I spoke at the Wired/NextFest opening ceremony where I introduced Scott Kelly, Commander of the STS-118 Space Shuttle mission who then introduced the STS-118 crew.  Wired Magazine editor Chris Anderson and Wired executive Drew Schutte, Hitachi North America CEO Tadahiko Ishigaki, Los Angeles Mayor Anthony Villaraigosa, and Northrup-Grumman Director for Diversity Sandra Evers-Manley also spoke.  It was Education Day and a large number of middle school students comprised the audience.  They were incredibly excited to see the STS-118 crew.
I then spoke of a collaboration between the X-Prize Foundation and Google for the Google-Lunar X Prize, a new X-Prize challenge where private companies will compete to land a privately-funded robotic rover on the Moon.
Finally, I had the privilege of introducing NASA's 50th anniversary logo. (+ Read more about NASA's 50th anniversary logo.) In my next posting, I will be discussing the exciting events NASA has planned this year and next as part of our 50th anniversary commemoration.
Shana Dale at opening ceremony of Wired/NextFest 2007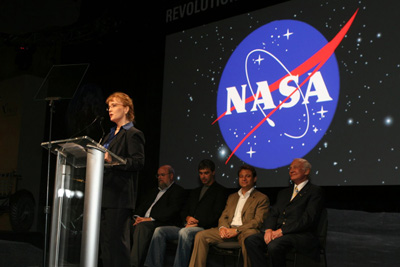 NASA booth at Wired/NextFest 2007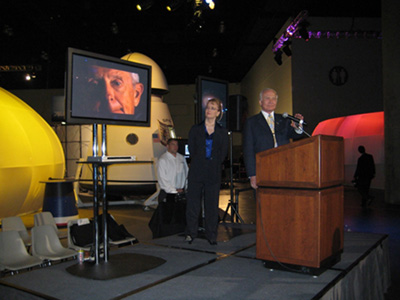 Unveiling of the NASA 50th anniversary logo in the NASA booth at Wired/NextFest 2007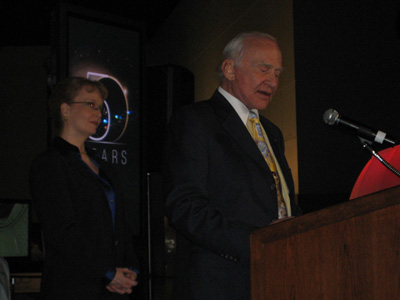 Mike Griffin Speaks at the NASA Lecture Series
Yesterday, Mike Griffin gave the inaugural speech for the NASA Lecture Series, co-sponsored by Lockheed Martin. Mike's speech focused on the Space Economy, the term that captures the full range of value and benefits that are realized through exploring, understanding and utilizing space.  Mike discussed how NASA and other space agencies and organizations contribute to the Nation's economic competitiveness through the development of new technologies and services that stimulate our economy and improve our lives.  Mike also noted the role of space exploration and scientific discovery as key means of inspiration to students interested in pursuing scientific and technical fields.  Download the speech "50th Anniversary Lecture Series: The Space Economy" or view it online.
    
The NASA Lecture Series will feature several prominent speakers over the course of the next year with topics focused on the benefits that space exploration, scientific discovery and aeronautics research provide in addressing global issues such as the economy, education, health, science, and the environment.