Paul Mortfield here at Kennedy Space Center anxiously waiting to see my first launch. I'm with the David Dunlap Observatory just outside Toronto, Canada. The observatory's 74″ telescope will be participating in the LCROSS NASA observation network for this mission.  We're excited to have Canada's largest telescope participating and helping the NASA team.
We just finished doing the LCROSS webcast at Kennedy talking about all the exciting things amateur astronomers and backyard skygazers can do to participate in this NASA mission back to the moon. Amateurs across North America have already been taking images of the polar regions of the moon to help characterize the region near the potential impact sites.
We're looking for many amateurs to photograph the impact plume to help the scientists further characterize it and compare the images with their observations from the huge telescopes in Hawaii. This is truly an exciting time and a beginning of new era of amateurs participating with NASA missions.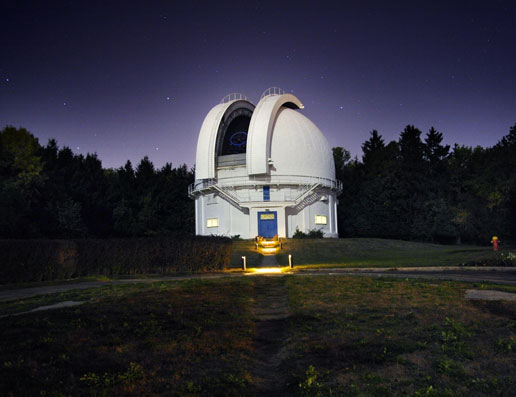 Photo of the David Dunlap Observatory outside Toronto, Canada. Image: Kerry-Ann Lecky Hepburn