We have yet to uncover the full wealth of scientific information the moon holds. It at the cornerstone of understanding the birth and evolution of Earth and other planets, therefore we need to explore it.
The moon looks very unchanging and calm in the night sky and is rarely thought of as an active planetary body. What most people don't know, is the moon receives LCROSS-sized impacts about once a week — that's more than 50 impacts a year! It also is interesting to note that it experiences thousands of  "moonquakes" each year and releases energy by heat flow, electromagnetic conduction and tides from Earth and the Sun.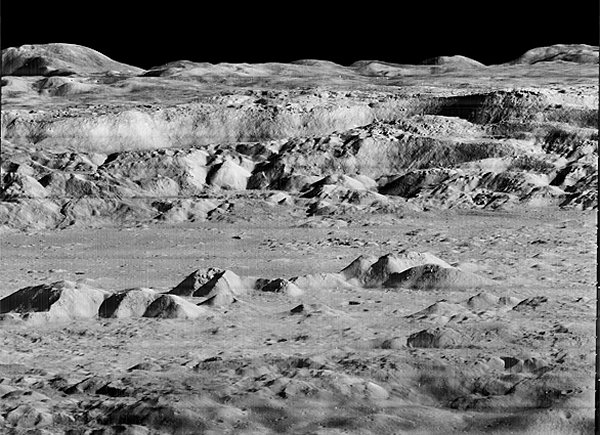 Moon's Copernicus Crater — Lunar Orbiter Photo 1966 (Credit: NASA)
LCROSS is unique compared to the natural barrage of material impacting the moon because it's designed to know exactly where and when it will impact — the Cabeus crater near the moon's south pole.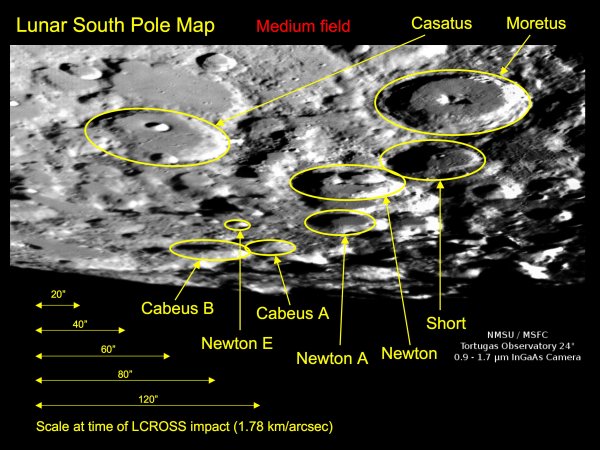 Craters of interest around the lunar south pole. LCROSS is targeting Cabeus A.
(Credit: NMSU/MSFC Tortugas Observatory)
Little is known about the moon's permanently shadowed regions and we may find some unexpected results from this unique mission. The crater is more than two miles deep and may be one of the coldest places in the solar system. Scientists believe it has been void of sunlight for billions of years and represents an optimal location for determining if water ice exists on the moon.
Teams of scientists, engineers and astronomers across NASA, industry and academia are working tirelessly to advance space exploration and knowledge of our solar system with this mission. Now that LCROSS is two days away from impact, they still have a lot of work ahead of them. For example, they will observe the impacts, gather images of them, measure the quantity of water and identify its form and study the lunar soil.
This exciting mission promotes participatory exploration from the professional and amateur astronomy community, students and the general public.
During impact, at least twenty-five Earth-based observatories will be aimed at the Cabeus crater to witness the moment the lunar dust rises and is suspended in the sunlight to determine if it contains water vapor.