It was brief, but it was brilliant! On Saturday, Oct. 2, 2010 at approximately 8:50 p.m. CDT, cameras operated by NASA's Meteoroid Environment Office at Marshall Space Flight Center in Huntsville, Ala., recorded a slow moving fireball moving from the north to the southwest.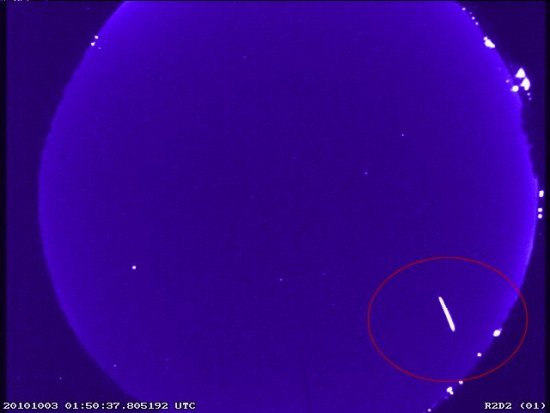 Enhanced-color image of Alabama fireball meteor.
The fireball was moving approximately 35,300 mph (15.8 km/s). It appeared at an altitude of 45.5 miles (73.2 km) and ablated, or burned up, at an altitude of 25.3 miles (40.7 km).  The meteor experienced significant deceleration as it entered the atmosphere, resulting in a meteor trail that lasted about three seconds, seen in the movie below:
Using data from cameras at both Huntsville and Chickamauga, Ga., astronomers at the Marshall Center determined that the meteor was located over Marion County, Ala.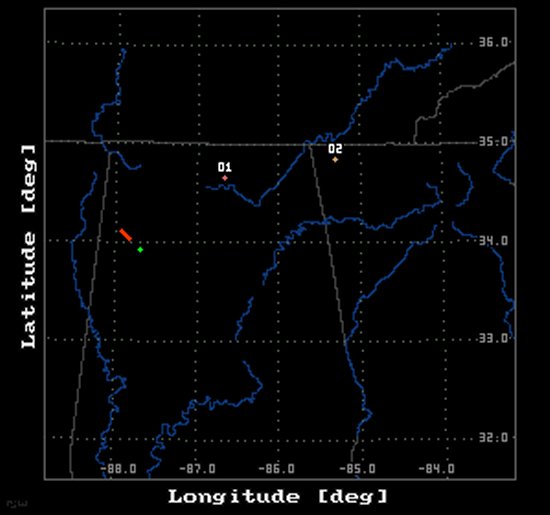 Diagram of fireball's path over Marion County, Ala.

Images and video courtesy of Danielle Moser, NASA's Meteoroid Environment Office, Marshall Space Flight Center, Huntsville, Ala.