Stargazers are in for a big treat this weekend!
On Mar. 19 the full moon will brighten the night sky as the biggest full moon seen in almost two decades.  The moon will be at perigee, its closest point to Earth — only 221,565 miles (356,575 km) away.

The moon's orbit around Earth is not circular — it's elliptical.  One part of the orbit,
the perigee, is closer to the Earth than the other, the apogee. The image is NOT to
scale — the eccentricity of the moon's orbit has been exaggerated.
The last time the full moon coincided with an extreme perigee was Mar. 8, 1993 when it was a distance of 221,536 miles (356,528 km) from the Earth.
This Saturday night, the moon will appear 14 percent bigger and 30 percent brighter in the sky than lesser full moons — when the moon is farthest from the Earth. But to the casual observer, it may difficult to tell the difference.
For the best viewing — and dependent upon clear skies, of course– look when the moon is near the horizon at sunset. The orbital geometry combined with the moon's location near the horizon, put in scale next to buildings and trees, will combine to produce an awesome sight.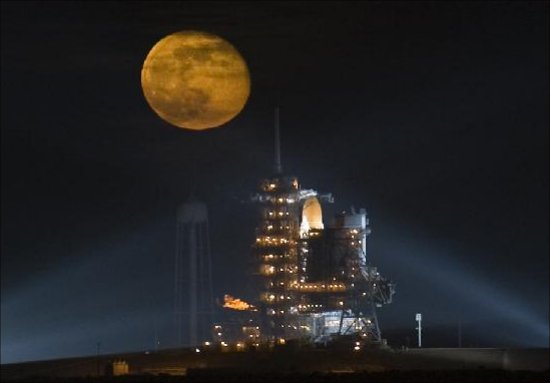 Full moon over space shuttle Endeavour in 2008.
If you take some great images of this weekend's full moon, we'd love to feature them on the Marshall Space Flight Center Facebook page! http://www.facebook.com/nasa.marshall#!/nasamarshallcenter