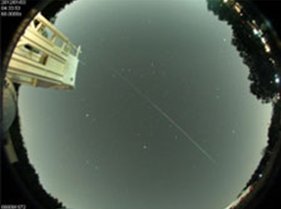 A meteor streaks across the skies above Huntsville, Ala. (NASA)
The night sky is constantly changing. The Earth rotates and revolves about the sun, creating a backdrop of stars that is always in motion. The moon grows large in the sky, and then smaller again, in a seemingly endless cycle. Now and then, brilliant streaks of light can be seen in the night sky, there and gone again in a split second. These "shooting stars", also called meteors, are seen when bits of rock and ice, the leftovers from voyaging comets and asteroids, enter the atmosphere and ablate, or burn up. These tiny travelers, and the light they produce, are the concern of the NASA Meteoroid Environment Office, or MEO, at the Marshall Space Flight Center which is responsible for understanding the meteoroid environment spacecrafts may encounter during missions.
To more closely track and study bright meteors called fireballs, the NASA All Sky Fireball Network watches the skies with six specialized black and white video cameras set up in four states scattered across the Southeast and Southwest. The network's multiple cameras provide overlapping views of the night sky, thus able to detect the same fireball to allow calculation of its location, speed, and orbit. The network, established by the Meteoroid Environment Office in 2008, sees several multi-station meteors (those detected by more than one camera) each night. The resulting fireball data — in the form of images, movies, diagrams, and text files — is posted online daily. The office uses this data to construct models of the meteoroid environment, something very important to spacecraft designers.
With cameras now in Alabama, Georgia, Tennessee, and New Mexico, the NASA All Sky Fireball Network plans to expand into North Carolina and beyond in 2012. The ultimate goal is a network of about 15 cameras in the United States in science centers, planetaria, and schools. To engage students, and promote STEM (science, technology, engineering, and math) disciplines in the classroom, the MEO has created a workshop for educators with information about meteors, a description of the network, and suggestions for how to use the data in the classroom.