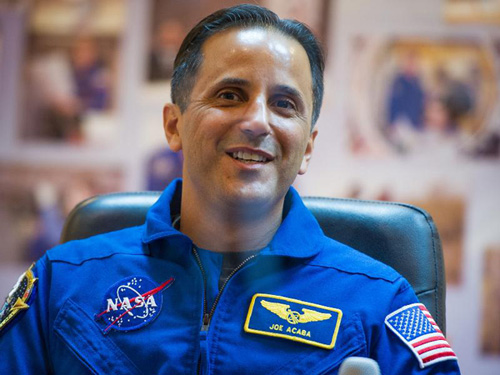 Everything is progressing well towards our launch on May 15 at 09:01 am local time in Kazakhstan.  We had a chance to see our vehicle one last time, now all packed with the cargo we will take with us to the International Space Station.  She looks good and is ready for us.  The fully assembled vehicle has been transferred by train and with a well rehearsed and proven procedure, has been placed in its final position on the launch pad.   

 

People ask what does one do a few days before launch?  There are of course a few briefings, but they are kept to a minimum.  We discuss the details of our launch and rendezvous with the ISS and the current status of the ISS, if any changes have occurred while we have been in Baikonur.  Some time is set aside to meet with our respective management representatives.  The work that is done to put together a successful mission is enormous.  It is with great appreciation that we are allowed to have brief contact with immediate family members.  None of us would be where we are without the love and support of our families.  All of the Astronauts and Cosmonauts know that the stress of a launch is much more difficult for them.  We are trained, know what to expect, and get to experience the unforgettable thrill of a launch to space.  We thank them for their support and sacrifices.  No special requests for meals are made.  We are well fed in Baikonur within their regular menu and we couldn't ask for more.  As I think about it, the more you can keep a normal routine leading up to an important event, the more relaxed one feels.  We will be getting up around midnight the evening before launch, so the day before is short as we will try to get some sleep after lunch.  As a crew, we are well rested and ready.

 

I look forward to sharing our story with you with future blogs from The Great Outer Space.