I was going to say this has been another busy week, but I think I would be able to start every entry this way. 
All of the Mission Control Centers (Houston, Huntsville, Munich, Tsukuba and Moscow) do a great job of maximizing our time on orbit in order for us to live and work efficiently.  This week ended the milestone Dragon mission.  Our main tasks were to unload and then repack the vehicle for its return trip and then send it on its way.  We worked really well as a team and finished ahead of schedule with the packing.  After finishing that, our focus shifted to the un-berthing of Dragon and releasing it from the Space Station.  There is a lot of work involved with closing the hatches between Dragon and the Space Station and installing the controllers for the mechanisms that hold these two together.  It is not as easy as just closing a couple of doors.  Due to the fact there was an approximately 30-minute window for the actual release of Dragon, we had to get up a couple of hours earlier than normal.  Luckily I am a morning person so that was not too painful.  Just like the Capture, the Release went as planned.  The cool thing about Dragon is that about 5 hours after we release it, it is taking its plunge into the Pacific Ocean.  Again, it was great working with Don and Andre and the Control Centers in Houston, TX and Hawthorne, CA.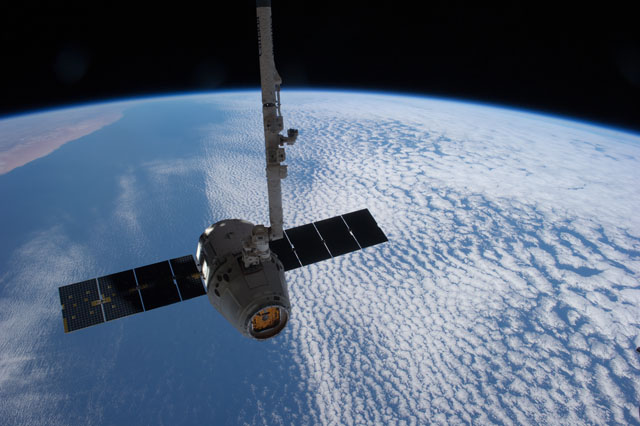 The SpaceX Dragon cargo craft is about to be released by Canadarm2 robotic arm on May 31.
Apart from Dragon, I had a lot of medical tests and data collection to do.  We do Periodic Fitness Evaluations where we put on some electrodes and a blood pressure cuff while we ride the stationary bike.  Not only is it good to see how we are medically doing, but it also provides information on how the body may change while on orbit.  As part of another experiment I had to eat a special diet for 4 days and part of the deal is that you need to eat everything they put on the menu (If you can't eat it all, you just need to let them know so they have a very accurate account of what you consumed).  It is very interesting because they are looking at how our diet may affect bone density while on orbit.  This could be very important when we plan on very extended missions to places further than low Earth orbit.  As part of this and a couple of other studies, I had to collect my urine for 24 hours, spin the samples in a centrifuge and then place them in our -80/-90 degree Celsius freezer.  I am sure most people have had to give urine samples before while visiting a doctor or hospital.  No problem, right?  Without getting too graphic, it is no easy chore to urinate into a bag while in microgravity.  It does take up a good part of your day.  To finish off the successful week, I had to have blood drawn on Friday morning.  Luckily Andre is a doctor and he did a great job.  We do train however to draw blood from ourselves.  I don't do well with blood, so it was a big achievement for me to do that as part of our training in Houston.  One of the many cool things about being is space is the wide variety of tasks we get to do every week.  I look forward to seeing what is in store for me in the future.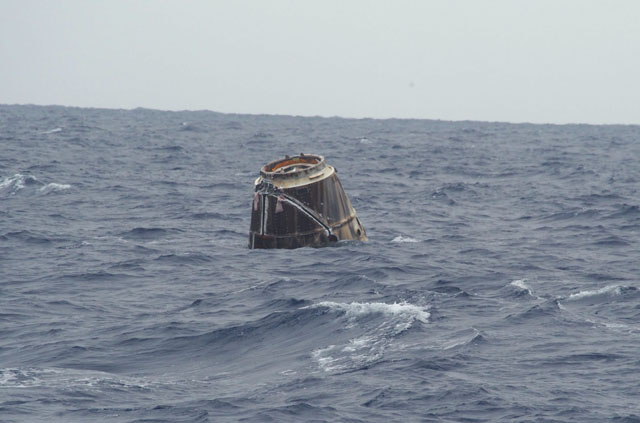 The SpaceX Dragon splashed down May 31 at 11:42 a.m. EDT west of Baja California, Mexico.
NASA worked with Marvel and Disney to get The Avengers sent up to us.  While in Russia, I missed the opening of this movie by less than a week.  I am a big comic/superhero fan and had been looking forward to seeing it.  Once I knew we were getting it, I told the crew and we got together on Saturday night for a movie night.  How cool is it to watch The Avengers while in space?  That is one movie viewing I won't forget.  Thanks to NASA, Marvel and Disney for providing us with a nice evening and a chance to relax at the end of great week.