Cmdr. Chris Hadfield during training
Mission Day 2
Life and Depth
Steve (Chappell) and I were outside on a spacewalk when the underwater weather changed, like a cold front blowing through. The visibility and temperature instantly dropped and I had to bring my arms in close to stay warm. The chilly water even looked different, like a wavering fluid prism.
I redoubled my concentration on my assigned tasks, but after a while I really started to notice where I was. A camouflaged little Goby fish got spooked by a bottom feeder, and a dozen bigger fish gave chase as he got away. A large Ray felt the cold water coming and flew past, like a bird on the wind. A Crab with an off-center knobby shell hobbled clumsily by, bound for some personal destination.
We are definitely aliens in this world, six recently-landed outsiders who don't belong. Yet a local Goliath Grouper came into our wet porch and presented himself for attention, like a pet cow. His whole 200 lb body wriggled with pleasure.
As I type this I can hear crunching sounds as a parrot fish bites off the growth on the other side of Aquarius's metal hull.
We got lots of excellent research done today on spacesuit design and human-machine interface, but it was the interaction with life that I liked the most.
– Chris
For additional photos of the crew, visit our Flickr site.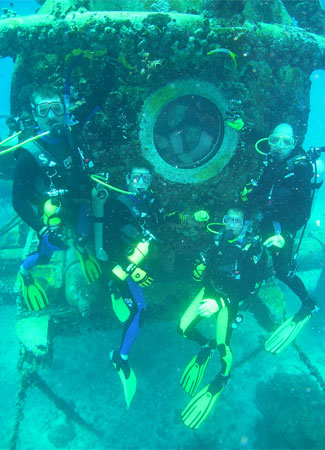 Outside Aquarius are, from left, Commander/CSA Astronaut Chris Hadfield,Andrew Abercromby, NASA Astronaut Tom Marshburn, and Steve Chappell.Inside Aquarius are habitat techs James Talacek and Nate Bender.