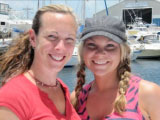 Heather Paul and Amanda Knight
Analog Lead Technical Liaison
for Education and Public Outreach
Topside in Key Largo, Florida!
Mission Day 3 was another great day for NEEMO 14! Chris and Steve once again set out for the morning extravehicular activities (EVAs) and then Tom and Andrew teamed up again in the afternoon. We tested a different center of gravity (CG) location and ran through the same movements and tasks from Mission Day 2.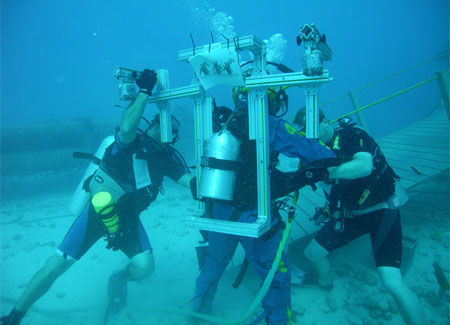 Support divers setting up the CG rig on the crew for testing.
During Mission Day 3, the ETag team achieved one of their primary objectives on the NEEMO 14 mission. They successfully demonstrated realtime telemedicine monitoring from the Aquarius habitat back to the NEEMO 14 mission control center. This developmental technology is being used to pioneer next-generation medical monitoring by using the ETag diagnostic platform to monitor people in a variety of extreme environments, starting with the NEEMO 14 mission.
The ETag is a small, credit-card-sized, radar-based medical device that is worn on the chest. The core of the technology is the TAP (Transducer Antenna Probe) which uses RFII (Radio Frequency Impedance Interrogation) to passively gather medical data from the aquanauts. It was originally developed for combat casualty care, and is now being used to monitor the aquanauts on board Aquarius.
As the aquanauts continued their NEEMO 14 mission, the ETag doctor was able to medically monitor them from land. This was the first successful technology demonstration of the mission, and a giant step forward in the potential of telemedicine. The data collected from the aquanauts includes heart rate, respiration and position. The ETag also collects the environmental temperature surrounding each aquanaut.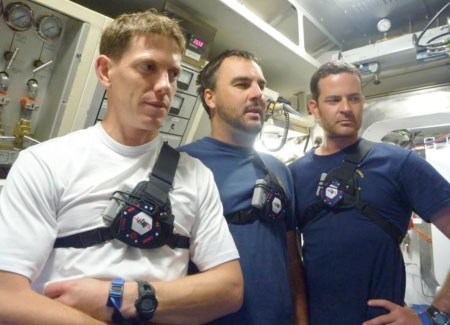 Aquanaut Andrew and the Aquarius hab techs sporting the ETags.
We had another video crew on site for education and public outreach: Blair, Ron, and Don from NASA EDGE! They talked to several members of our topside team, and talked directly with aquanauts Tom and Steve in the Aquarius.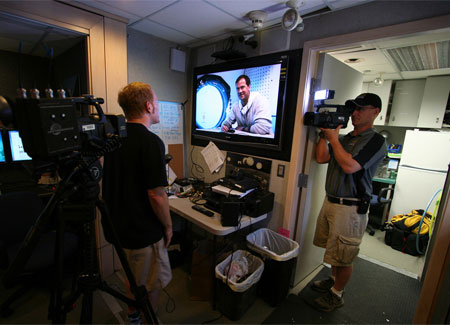 NASA EDGE crew interviewing astronaut Tom Marshburn inside the mission control center.
One of our aquanauts, Andrew, had his birthday on Mission Day 3. The topside crew sent down several goodies for him to open, including a birthday sign, hats, a card, and a few games that the crew can play in their (little) down time. During our evening tag-up meeting with the crew, we were able to sing him happy birthday! What an awesome way to spend your special day: doing EVAs 63 feet under the Atlantic Ocean, paving the way for future exploration and being one of the elite few to have the opportunity to live in the Aquarius habitat.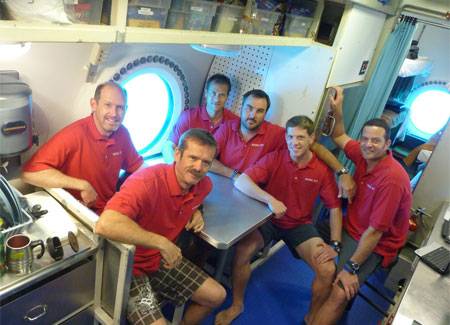 The NEEMO team, consisting of two astronauts, a veteran undersea engineer and an experienced scientist and two NURC hab techs.