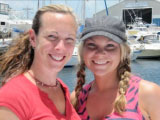 by Heather Paul and Amanda Knight
Analog Lead Technical Liaison
for Education and Public Outreach
Topside in Key Largo, Florida!
What a way to spend a Friday… Mission Day 5 was another great day for NEEMO 14 as the Aquanauts tested another center of gravity (CG) configuration under water and performed cargo lander-based tasks and evaluations! Chris and Andrew went outside in the morning, and Tom and Steve were out in the afternoon.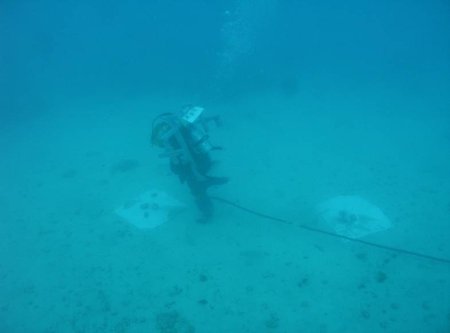 During this CG rig configuration and activity, the crew is tasked with picking up rocks from one location and transferring them to another location.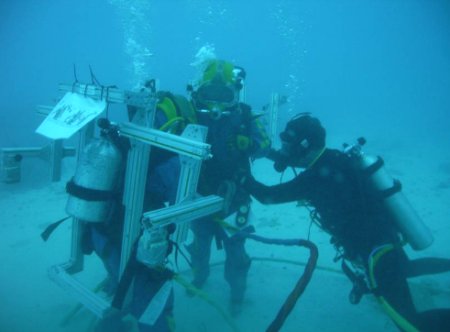 The CG rigs have three primary configurations which will be evaluated during this mission. Located on the back of the rig are the pictorial representations of these configurations. During their tasks, the crew is not aware of the exact characteristics.
The murky pictures above represent the harsh sea conditions. At times during Mission Day 5, the wind was so severe above the ocean surface, that it affected the operations of the crew; for example, the crew had to stay tethered to the lander at all times. Some of the wind gusts were even vertical! Also, the exploration vehicle was tethered and tied down throughout the day.
The topside crew and aquanauts were all very excited about the launch of Shuttle mission STS-132… it's fantastic to be running an analog mission here in the Florida Keys while NASA launches a crew into space! Make sure to follow the mission activities at www.nasa.gov. The aquanauts had the opportunity to watch the last planned launch for the shuttle Atlantis while they were preparing for their second extravehicular activity (EVA) of the day.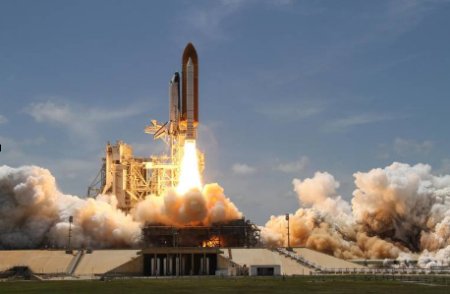 Space shuttle Atlantis lifted off from Launch Pad 39A at NASA's Kennedy Space Center in Florida on the STS-132 mission to the International Space Station at 2:20 p.m. EDT on May 14.
During our evening tag-up meeting with the crew, Chris shared with the team that his first launch into space was actually on the Atlantis – which made watching this launch an especially meaningful mission to him. Not only was he blessed with the opportunity to perform a mission on the Atlantis, but from the depths of the Atlantic Ocean, he was able to view its potential last launch.
Chris and Tom conducted several interviews with the media, including CBS Smart Planet, Universe Today, Discovery TV's "The Daily Planet" and the Globe and Mail newspaper.
As most folks prepare for the weekend, our NEEMO 14 crew looks to another day of EVAs and mission activities on Saturday, Mission Day 6, and then they've got a much-deserved rest day on Sunday!