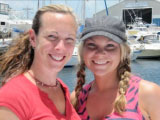 by Heather Paul and Amanda Knight
Analog Lead Technical Liaison
for Education and Public Outreach
Topside in Key Largo, Florida!
Storms out at sea covered the sky with dark grey clouds today… Nonetheless, we have a crew underwater, so our dive team was ready for action!
Chris and Steve went out in the morning and Tom and Andrew followed in the afternoon. Mission day (MD) 10 extravehicular activities (EVAs) were similar to the activities and tasks performed during the EVAs on mission day 4. The crew wore the life support backpack mockups, and added weights to simulate working on the lunar surface in one-sixth of the Earth's gravity. The crew performed many different mission objectives, such as entering and exiting the ascent module, transferring payloads from the sea floor to the lander deck, and moving the injured crewmember mockup.
The big difference in these tasks, compared to earlier in the mission, is the 20-minute delay in communication with our topside support team and Mobile Mission Control Center, as well as the lack of audible communication with any of the support diving team. This delay was instituted during week 2 of the mission, in order to simulate the delay in communication that would happen on a mission to Mars. During this EVA, the only people with whom the EVA crew could speak while performing their tasks were the other aquanauts, who were monitoring progress from inside the Aquarius habitat.
Our Aquarius team members have become so familiar with each other and their unique ways of performing and thinking, that all of the activities went off without a hitch. Mission day 10 was an EVA success!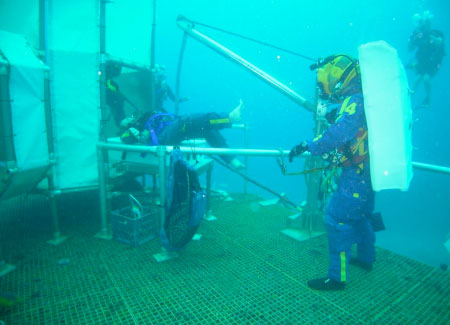 Aquanauts transfer the injured crewmember mockup through the hatch of the ascent module on top of the lander deck.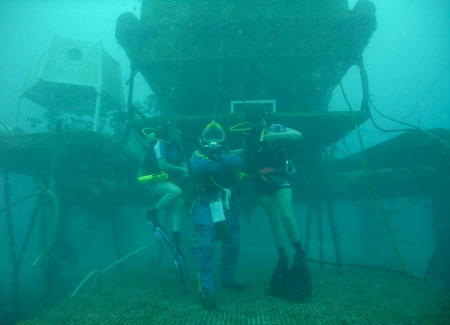 Support divers, Juliet and Barbara, strike a pose with an aquanaut.
Our education and public outreach efforts turned to the media today as Tom, Andrew, and Chris were interviewed by several journalists. News coverage of NEEMO continues to grow. If you'd like to see some of the articles that have been released so far, check out the links below. More articles will be out this week and after the mission, as we continue to spread the word about NEEMO 14!
Time for Kids: "From Space to Sea"
Trendhunter Magazine: "Underwater Space Camps"
Gizmodo: "NASA Finds Outer Space 65 Feet Underwater"
Yacht Charters Magazine: "Media Advisory: Astronaut Chris Hadfield Teaches 1500 Students While Underwater"
We'd also like to mention that several of the students who have been able to view and participate in our education outreach activities have contacted us to express their appreciation, so we've included their comments in this blog. We are so happy to share the NEEMO 14 activities with all of you, and thank YOU for following along!
Brandon M: I think it is so amazing that the technology is so amazing to talk to people all the way around the world.
Nathan G: The astronaut under water was amazing. I think it was a good experience because it shows how astronauts train under water.
Melissa O: It was a great opportunity to talk to an astronaut. I am so glad I go to a NASA Explorer School.
Ryan L: This was a great experience to take part in.
Andrew G: It was interesting talking to aquanauts and learning what it is like to live in there [the Aquarius] for two weeks.
Leland K: I think it is really exciting to go underwater 60 feet for two weeks and see all the sea life but it will be cool when we go to the moon…
Corinna N: I think it is a wonderful experience to talk to astronauts underwater! A once in a lifetime chance! And learn why they are there!
Libby E: When I was asking my question the aquanaut left his microphone on and I could hear my voice in the background. It was pretty cool.
Nikayla B: That's amazing how you can talk to us while being in a total different state and under 60 feet of water! I want to be part of NEEMO someday.
Jessica W: I thought it was very interesting to see the aquanaut in the water and having the aquanaut answer our questions about the NEEMO expedition.
Miranda I: It was so epic. It was such a good experience like I learned so much like you don't even know!
Stevie E: It was a once in a lifetime experience that I will never forget! Epic!
Erryn A: I think watching the NEEMO video was fun: learning about the place and where they live when they are under the sea is cool. I wish I could be under sea like the NEEMO people.
Antonia D: It was awesome being able to talk to someone on the other side of the United States 60 feet under water. I'll never forget it. It was cool to see an aquanaut swim past the window.
Gustavo L: It is great to be in a NASA Explorer school. You get more opportunities than other schools.
Andy W: (with a drawing of a couple dinosaurs) I, personally, found the whole idea to be quite incredible. Oh, the things technology can do.
Donny O: I really liked the live feed because it as a once in a lifetime experience and it was cool to talk to someone out of state.
Dallas M: I really liked it and it was interesting listening to what they do and how they do it.
Only a few Mission Days left… keep watching! We have more Remotely Operated Vehicle (ROV) activities happening on MD11!