This blog post is courtesy of the Haughton Mars Project (HMP).
To learn more about HMP go to http://www.marsonearth.org/
The traverse team left Resolute Bay today in the late afternoon after a full day of preparation. They stopped outside of Resolute Bay due to poor visibility, whiteout conditions and a lot of fresh snow.
The team is aiming for an early start tomorrow with weather conditions forecast to steadily improve over the next couple days. Although the visibility is poor the team's spirits are high, and they are looking forward to their next destination goal, the area of Helen's Haven on the edge of Cornwallis Island.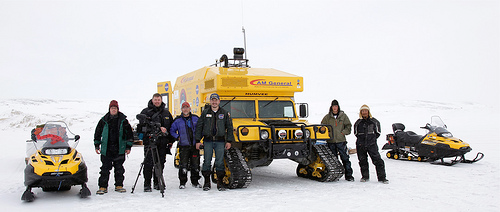 The Mars Institute's Northwest Passage Drive Expedition – 2010 field team, ready for departure in Resolute Bay on 5 May 2010. From left to right: Mark Carroll, Jean-Christophe Jeauffre, John W. Schutt, Dr Pascal Lee (Expedition Leader), Jesse Weaver, and Joe Amarualik. (Photo Credit: Mars Institute NWPDX-2010 / Jules Verne Adventures)