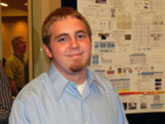 Kevin Buckley is an intern supporting Desert Research and Technology Studies (Desert RATS) and NASA JSC.
DRATS Internship Week 1:
This week I started out by meeting my mentors, Matt and Jason, and I am working in the Lunar Surface Systems group, specifically making preparations for the Mission Management Team (MMT), of which I will be a part during the traverse in Arizona. Early in the week I spent time meeting people in the office and getting acquainted with the work, but mostly I worked on creating a template for our MMT meetings, which would take place for the first time next week during the Dry Runs.
DRATS Internship Week 2:
This week we were pretty busy, the dry-runs were being conducted all week, so we came in early and stayed late a couple of the days. Courtney arrived on Monday and she helped me finish up the template for the MMT meetings, which we led on Tuesday and Wednesday. Thursday, we didn't have an MMT meeting, so we helped out the rover crew by riding along inside as they did their traverses and taking notes and pictures, which was a lot of fun. It was really cool to ride inside of the rover and see how the crew functions. Also Courtney and I were interviewed by the film crew they had for outreach to seventh-graders which was pretty cool too. So far on the whole the internship is a lot of fun, and I'm learning the process NASA uses, and the similarities to my capstone project that got me here.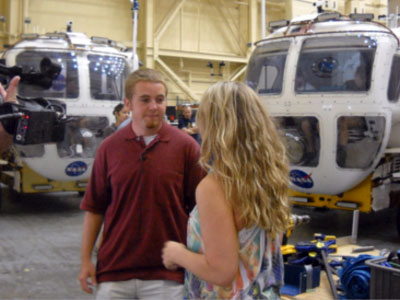 Interview about internship in Building 9 High Bay
DRATS Internship Week 3:
This week was the week between dry-run weeks, so our tasks focused mainly on preparing for the next set of dry runs and further our preparation for the field. Jason, who has been primarily our direct point of contact, is at NASA Ames this week on another project. Courtney and I have been managing our work and organizing our tasks ourselves, which has lent to the feel of a real work setting. Along with continuing our work from the previous weeks, we also got to help out with some other tasks, such as to help install battery packs and shore up some wiring on one of the shirtsleeve EVA backpacks. Our MMT meeting template has been mostly finalized, we've spent considerable time putting together a master contact list, and we have been receiving quotes for things we'll need in the field, such as cranes, forklifts, etc. Overall it's been a productive week, and we're learning the process and way things work more each day.
Courtney and I were working on this Shirtsleeve Extra-Vehicular Activity (EVA) Backpack.