By Kevin Buckley and Courtney Gras, Moon Work Interns
Kevin recently earned his bachelor of science degree in aerospace engineering from the University of Maryland. Courtney is an electrical engineering major at the University of Akron, and starts a co-op term this fall at NASA's Glenn Research Center.
Week 1
August 31 to September 5 was the first week of the rover traverse. On Tuesday, everything we had been setting-up and preparing for came together. The base camp was very busy – the Mobile Mission Control Center was full of engineers and scientists communicating with the rovers and the ground crew as everyone was working to make sure everything started on time and according to plan.
In the mornings, we ran the Mission Management Team (MMT) meeting with all of the team leads. The purpose of the meeting (held every morning and every evening) is to see where each team is with their objectives, and determine if there are any changes to the plan.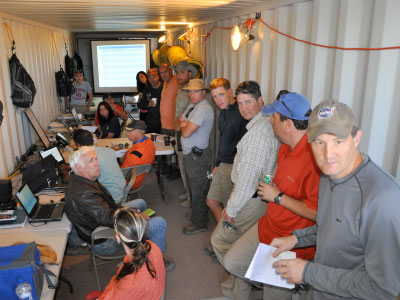 The MMT morning meeting for Mission Day 1.
Throughout the week, we supported different parts of the traverse. We had the opportunity to help the science team with the Gigapan camera and participate as test subjects for the Habitat Demonstration Unit (HDU).
As the week progressed, we were able to see the differences between two different kinds of communication that were being tested – constant communication with the rovers and two-a-day communication. It was interesting to see how the different communication methods influenced the mission.