by Tracy Gill
Tracy Gill is on the management team of the Habitat Demonstration Unit (HDU) project, which brings together a multi-center team of NASA architects, scientists and engineers, working together to develop sustainable living quarters, workspaces, and laboratories for next-generation space missions.
September 8, 2010
When we last left our intrepid readers on August 30, we told you about getting the Habitat Demonstration Unit-Pressurized Excursion Module (HDU-PEM) configuration assembled and tested in Houston and then packed up to ship to Arizona. Since then, plenty has happened. We had a couple of issues in transporting hardware to Arizona including some elements that were damaged on the bumpy roads that led to our test site and one support vehicle that broke down in Amarillo, Texas that will now arrive about two weeks late. Nonetheless, we have persevered through heat, wind, dust, dust, more dust, and even a little rain to get the HDU-PEM up and running to support Desert Research and Technology Studies (D-RATS) 2010 at SP Mountain in Arizona.
The HDU PEM ready for operations with SP Mountain just visible in the background.
At SP Mountain, the HDU-PEM team is set up about 14 miles via paved and dirt roads from the main D-RATS base camp at Black Point Lava Flow. So our skeleton crew at SP Mountain had to put forth a tremendous effort in just a few days to unload, assemble, test, and solve problems to be ready for the dry run and then test operations. As someone used to working in clean rooms and control rooms and meeting in conference rooms for pre-test briefings, I found that holding daily pre-test briefings literally in the field was definitely different.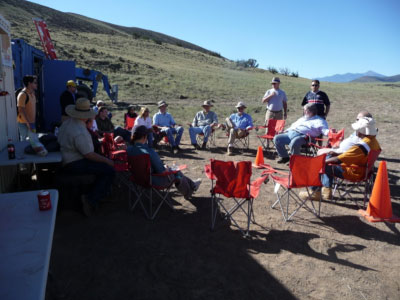 Pre-test briefing HDU-PEM-style in the field in Arizona.
The Space Exploration Vehicle (SEV) rover crews docked with the HDU-PEM to perform geologic science and other activities at SP Mountain on Day 7 and will dock again at Black Point Lava Flow on Day 14 of the 14-day traverse mission of D-RATS 2010. So that means we have to pack, assemble, and deploy twice during the D-RATS campaign to simulate a mobile asset available for excursions from an exploration base. While the SEV rover crews are only performing joint operations with the HDU-PEM on two mission days, on the other days, we are performing independent test activities using operators such as geologists, engineers, interns, and others. And our human factors experts assess the performance data to help us assess the utility and effectiveness of the technologies, systems, and the operations inside the HDU-PEM.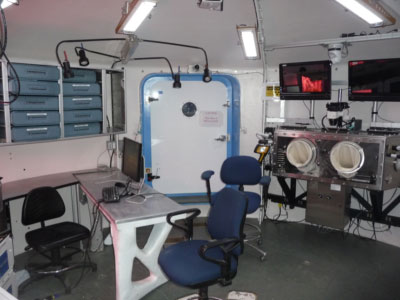 Two of the four workstations inside the HDU-PEM: The Medical Operations Workstation (left) featuring a dual purpose work surface and patient table and the Geolab featuring a Glovebox.
One of the major milestones of the D-RATS 2010 occurred at the end of Mission Day 6 when the two SEV Rovers docked with the HDU-PEM. It made for a great picture as you can see, and our team was quite proud to see our systems being featured on Day 7 of the rover crew's timeline.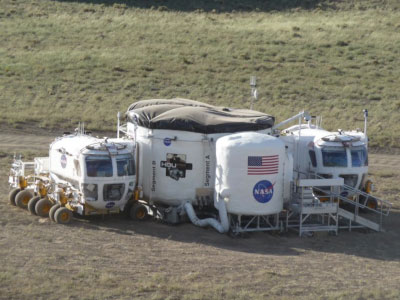 Space Exploration Vehicle Rovers A and B docked to the HDU-PEM on September 5, 2010 near SP Mountain.