By Dean Eppler
Dean Eppler is the D-RATS Science Lead.
September 8, 2010
So, we're into Week 2 – new crew, new mission, and about a third of the science team is new members replacing folks that have to go home. The first week of operations went very well; although the first day of operations was hectic, with a lot of things that didn't start up as well as we would like, the team pulled together and the problems were quickly fixed. By the second day, we were all operating as smoothly as if we had working together for months.
The second week started off with a day of bad weather – steady rain, winds and low hanging clouds – definitely not weather for space operations. Initially, it was hoped that we would be able to conduct our operations in the afternoon, so each rover science team took a hard look at the planned traverse for the day and figured out how it could be replanned to take into account the limited operations and still get our science objectives done. It was a good exercise – the fact is that while we would like every mission to go exactly as planned, the real world rarely allows that, and a key capability is the ease of replanning.
In the months prior to coming to Flagstaff, the traverse planners were careful to use the science objectives of the field operation to prioritize each station. Consequently, we were able to re-plan the operations for the day in about an hour, and have a new plan ready to go. In the end, although the weather cleared up a bit late in the morning, the National Weather Services in Flagstaff warned us that the good weather wouldn't last, so the Mission Management Team scrubbed the activity at about 11:30 a.m. Last night, after a discussion with the Mission Management Team, the Strategic Science Operations Team did a hard look at the constraints we have on the rest of the mission, and began replanning the last 5 days. This morning, we're initiating the first part of that replan, which is starting with the stations we missed yesterday. As the days go on, we'll be continue to implement that new plan so we arrive back at our Base Camp by noon on Day 14.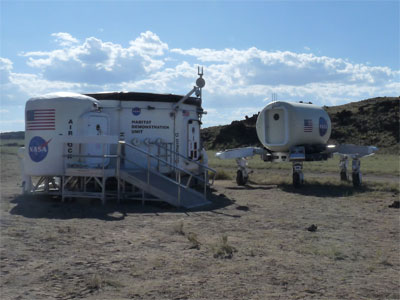 The ATHLETE rover and Habitat Demonstration Unit ready for a day of operations.