By Kelsey Young
Kelsey Young is a geologist in the School of Earth and Space Exploration at Arizona State University and supporting Desert RATS as a member of the science backroom and as one of the geologist crew members.
Seven days in Space Exploration Vehicle (SEV) B. I am conducting a thorough exploration of a volcanic terrain in a concept space vehicle with one other person (in my case, Astronaut Stephanie Wilson). Sound straightforward? While I'm a field geologist who has spent a lot of time in the outdoors, I've not been trained to live in a confined space for seven straight days. Cooking, sleeping, going to the bathroom, and cleaning, take on a whole new meaning. They all happen in a very small space. My bed is also the storage location for my food, in addition to the surface where I prepare my meals. In preparing for this field test, and completing the first three days, I've been surprised to realize how easy it is to live comfortably in SEV B.
The biggest thing I've learned while spending the last three days in the rover, is establishing a set of routines to use for each daily task. It takes several minutes for the hot water for cooking to heat up, and in that time I clean my bed and eating surface (typically my seat in the front of the rover). For food we eat dehydrated pastas and meats that have to be cooked for 10 minutes with hot water. We also have iced tea, lemonade, and fruit punch mixes that we can drink, and instant coffee for the mornings.
Each person has their own sleep station that affords a lot of privacy, and we each have a set of soft lockers where we can store our clothes and personal items. Considering we're living in a prototype space vehicle, it's been a comfortable stay! SEV B has become my home away from home, and I'll say a fond farewell at the end of Day 7.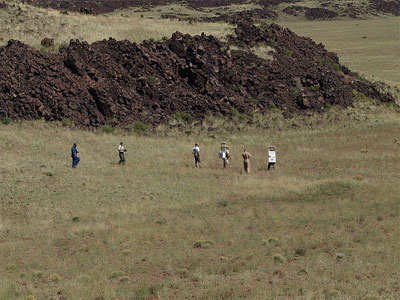 Crew members and test team hike toward a designated exploration site on Mission Day 11.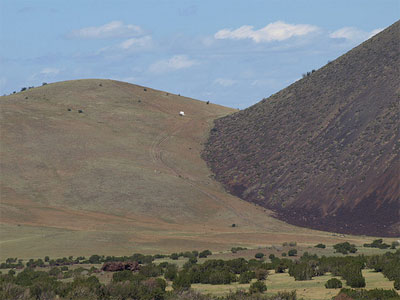 The Space Exploration Vehicle viewed from a distance, a small white dot against the landscape.