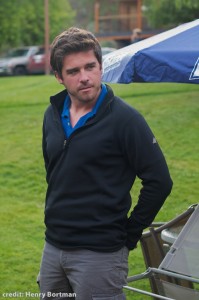 by Joe Russell – PhD student from University of Delaware studying Microbiology
Most days I do science in a bright, cluttered (yet clean), indoor laboratory. Right now, I am sitting on the shore of a pristine lake in British Columbia, waiting for samples of microbialites. Long days and late nights in lab is what you pay the piper for sample collections in beautiful, remote locations.
What I knew of British Columbia was what I saw during the Vancouver Olympics and a handful of nature shows. It was beautiful, with tall mountains, good skiing, and killer whales. What I didn't know was how diverse and rugged the landscape would be. I flew into Vancouver and drove a rental car up to our field site along with my advisor, Dr. Jen Biddle. We passed through the city into tall snow-capped peaks covered in conifers. Beautiful, but about what I expected for BC. My expectations were quickly dashed. Lush forests spit waterfalls down into the Fraser River. Within an hour or two, the conifers gave way to more rock outcroppings, and eventually huge, sheer cliffs with rocks of all different colors. The vegetation changed to more bristly, desert flora. Winding streams worked their way through distant pastures, dotted with gnarled trees, horses, and cows; eventually all spilling into the Fraser, a constant throughout our drive. As we approached the town of Clinton, our base of operations for this expedition, the conifers returned, although this time in different arrangements. The dense coastal firs, spruces, and hemlocks gave way to more sparse cedars and ponderosa pine forests that populated steep, rocky canyons. Tucked away deep in the folds of these ancient canyons are two very unique and exciting lakes.
Pavilion Lake and Kelly Lake are home to a fantastic display of microbialites. A fun, quirky, inspired (from what I'm beginning to see) group of scientists with a variety of backgrounds have descended on these lakes to study these structures because they may hold answers to some of the most profound questions we can ask. What did some of the earliest life on this planet look like? How did it survive and evolve? The fossil records show that for a couple billion years of our planets history, life existed similarly to how it does on the microbialites of Pavilion and Kelly Lake. If these structures were such an important first step in Earth's life history, might they also be something to look for when we eventually explore other planetary bodies in our solar system and beyond? As a microbiologist, with a strong interest in astrobiology, these questions floor me. To be here in this beautiful countryside searching for answers is what some refer to as "pinch me" moments.
My role here is to help understand the bacterial communities that live on the surface of the microbialites, and from what we can tell, drive their formation. I have spent the past few days taking part in planning and execution of submersible dives and sample collection. Once samples arrive at base camp, I extensively document what I see. Interesting features such as curious green and purple nodules that may be the site of carbonate formation on the surface of the microbialites are sub-sampled and examined under the microscope. Larger chunks of microbialite are carefully bagged and frozen for shipment back to the lab at the University of Delaware. There, I will extract DNA to study the microbial population of these structures on the genomic level to determine which members of this population are most important at different depths. This study highlights one of the unique attributes of Kelly Lake and Pavilion Lake. Microbialites are found in a handful of places around the globe yet these lakes are the only environment where they are found at such a variety of depths (thus differential access to light). It is our hope that these varying growth environments within the lake will be able to highlight distinct attributes of microbialites that made them so successful on early Earth and could possibly aid their formation on other planetary bodies.
Diving for Microbioliate samples