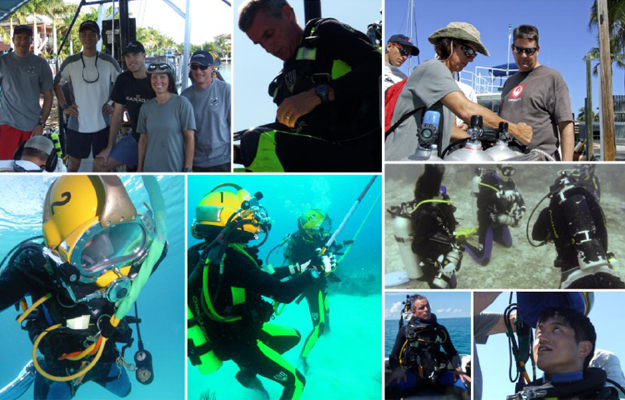 Clockwise from upper left: NEEMO 15 crew and CAPCOM; Steve Squyres in SL-17 training; Shannon Walker preparing for dive training; crew dive skills checkouts; astronaut Takuya Onishi donning the SL-17 helmet; David Saint-Jacques waiting to start his SL-17 dive; crew during SL-17 training (2). Photos credit: NASA
The training week for NEEMO 15 – the 15th mission of the NASA Extreme Environment Mission Operations (NEEMO) program – has successfully completed. The mission is scheduled for Oct. 17-29, however current severe weather has delayed the start of the mission until Thursday, Oct. 20 at the earliest. The mission is still expected to be a full 13-day mission.
Mission Preparation
A core set of team members has been in place throughout the training week making final preparations for the mission, including deployment of equipment to the sea floor around Aquarius for the saturation crew to perform testing. A circuit has been set up to evaluate different techniques for translation, sampling, and instrument deployment, including the use of Deep Worker submersibles as Space Exploration Vehicle (SEV) analogs. Additionally, on shore, the Mobile Mission Control Center (MMCC) has been set up and is ready to support offshore activities. Finally, a science team has been hard at work in preparation for the science traverse portion of the mission, which will run in parallel with the saturation crew performing NEA exploration activities.
Dive Training
Portions of the week have been dedicated to dive training for the saturation crew as well as the topside support crew. The saturation crew has received training on scuba and the SL-17 dive system that they will use on EVA from Aquarius. The topside support divers have received all necessary training to assist the saturation crew in the execution of their mission activities.
The Deep Worker submersibles on the Liberty Star in preparation for departure from Kennedy Space Center to Aquarius.