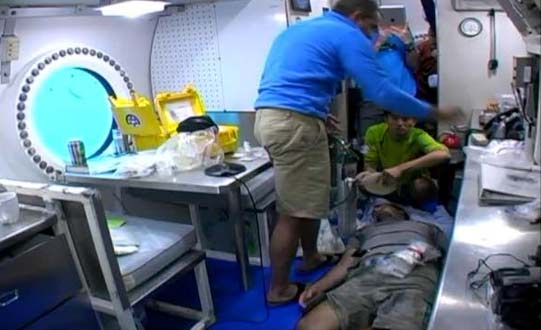 Image at right: The NEEMO 15 Crew performs a simulated behavioral health assessment scenario.
This is Mission Day 5. Time flies fast. We have performed six "spacewalks" so far, and today we had no scheduled Extravehicular Activity (EVA), but that didn't mean we had free time…
The first event began when one of our habitat technicians rushed into the cabin with a red swollen arm. He told us that he had been stung by a jellyfish. After a while, he fainted. It took me some time to realize that this was a simulation scenario which was a part of the behavioral health and performance study. Fortunately we have a crewmember, David Saint-Jacques, who has medical background, so he took the lead to give the patient some treatment with medical kits. The NEEMO15 commander, Shannon Walker, kept contact with the Mission Control Center by phone, getting some advice from a dive medical officer on the ground. Steven Squyres recorded each step we performed. And I assisted David, following his instruction. We worked fine as a team.
We went through the second scenario in the afternoon. This time, the smoke alarm suddenly rang out in the habitat. We were told that the smoke came from the microwave, so we pulled out its power cable. According to the emergency procedure we tried to use oxygen masks in the cabin, but somehow they didn't work. We were forced to evacuate the cabin and fled to the wet porch. Oxygen masks worked there. It seemed that there was a problem somewhere between the wet porch and the cabin. We looked at a schematic of the air supply/vent system of the habitat. We successfully found the cause, and in the end, the case was closed.
Since we might have to deal with some troubles by ourselves during long-distance exploration, coordinating with the ground staff along the way a great exercise. And we demonstrated good teamwork in both cases.