By 2012 Research and Technology Studies (RATS) crew member David Coan, an engineer with United Space Alliance at NASA's Johnson Space Center
Trevor and I started the day by getting sealed up in the Multi-MissionSpace Exploration Vehicle (MMSEV) to kick off the RATS 2012 simulated asteroid mission. Thevehicle looks rather small from the outside, but on the inside it seemsto be just roomy enough. Packing can be a little tricky, since there'sjust enough space crammed into every conceivable location, but we got itall in with the help of our Human Factors guru. Once settled in thecabin, we got down to the day's mission.
Our goal was to virtually "fly" down to theasteroid and have one of us go out on a spacewalk (an Extra Vehicular Activity or EVA) to collect some rock samples. I started off flying theMMSEV, and Trevor headed out the door. To go on an EVA, Trevor used thesuitports in the back of the MMSEV, where his spacesuit was attached onthe outside. He opened the inner hatch, climbed into the suit, closedthe hatch, and then was off on his EVA.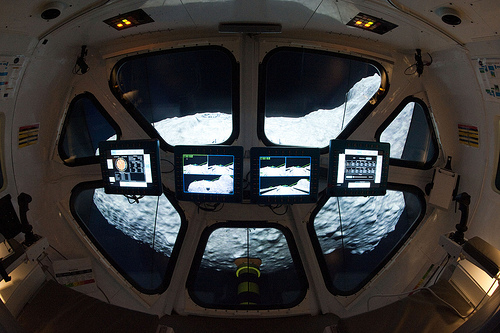 View from inside the Multi-Mission Space Exploration Vehicle (MMSEV) as the simulated asteroid mission is running on video screens. Photo credit: NASA
To simulate being on EVA,Trevor headed up to the Virtual Reality Lab, where he donned goggles thatmade it appear to him as if he were near the asteroid. Having Trevorsettled on the front of the MMSEV, I then flew it down to each of thesample sites. With the virtual simulation projected out my frontwindows, it seemed as if I was really on the asteroid. Liz, Allison, andMarc helped a lot by choreographing our mission from the Deep Space Habitat.
Flying the MMSEV was great. It reacted really well to all controlinputs, and it wasn't too difficult to precision fly near the asteroid surfacewith Trevor's helmet just inches from the rocks. We worked like that fora couple of hours, and then switched places. Climbing into the Mark IIIspacesuit to egress for my EVA was definitely fun, even though I was onlyin the suit for a few minutes.
Having trained in the space shuttle andspace station airlock mockups, I found using the suitport to be veryquick and easy. Once we were done with our flying tasks, we settled infor our evening tasks. That involved making a freeze dried dinner,setting up our cycle and exercising, and filling out a bunch of datasheets. Exercising in the confined quarters was challenging, and wemostly stuck with using the cycle. We finished the night by configuringour bunks for sleeping, and shutting things down for the night.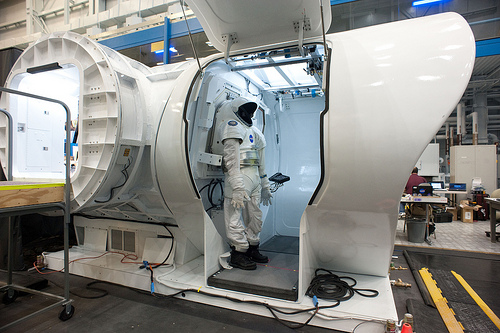 Suitport with spacesuit on the outside of the Multi-Mission Space Exploration Vehicle (MMSEV). Photo credit: NASA