Astronauts, engineers and scientists will spend three weeks undersea off Florida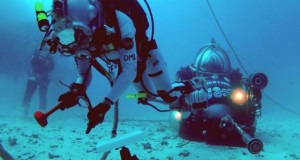 An Irish doctor has been selected by US space agency Nasa to monitor the health of six astronauts, engineers and scientists who are due to spend three weeks in an undersea research station off the Florida coast.
NUI Galway-based clinician Dr Derek O'Keeffe will apply his telemedical skills to check remotely on the wellbeing of the six aquanauts – one of whom is a fellow Irish man, Marc Ó Gríofa from Clonee, Co Meath.
Dr Ó Gríofa, who has a PhD in biomedical engineering, will live some 20 metres under the Atlantic Ocean as part of the Nasa extreme environment mission operations (NEEMO) project.
Dr O'Keeffe holds dual biomedical engineering and medical qualifications, and is an expert in remote monitoring technology, with experience in prior spaceflight and extreme environment missions.
He will oversee the physiological parameters of the six participants, and will run several staged health emergency events to help develop protocols on crisis response in remote conditions.
"The Aquarius habitat and its surroundings provide a convincing analogue for space exploration," Dr O'Keeffe said.
"Nasa is also carrying out similar missions in other extreme environments, such as deserts, icefields and volcanoes around the world," he said.
Telemedicine allows health care professionals to evaluate, diagnose and treat patients in remote locations using two-way video, email, smart phones, wireless tools and other forms of telecommunications technology.
Telemedicine is already being used for monitoring chronic disease at home, and it can also provide remote healthcare in "medically underserved" areas, he said.
Ultimately, monitoring of people with diabetic or cardiac conditions can pre-empt emergency hospital admissions, he says.
"Fast-forward 10 years, we would envisage that it would be the standard of care for patients to have home monitoring of physiological data for certain chronic diseases, and equally for all hospitalised patients to have continuous monitoring and remote review," he said.
Dr O'Keeffe is due to give a public talk on telemedicine at NUIG's clinical science institute on July 22nd, and will participate in a live public video-link with the aquanauts, who will take to their sub-sea environment from July 18th.
By Lorna Scoggins, The Irish Times
http://www.irishtimes.com/news/ireland/irish-news/nasa-selects-irish-doctor-to-monitor-aquanauts-1.2720869