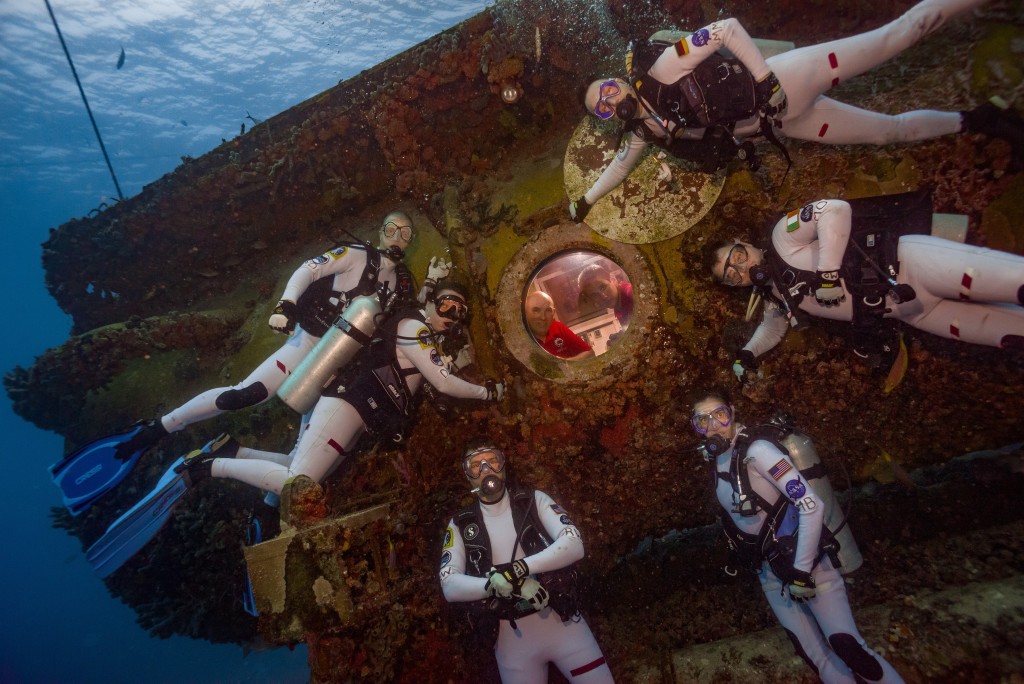 A group of astronauts, engineers and scientists ventured to the bottom of the Atlantic Ocean on July 21 to prepare for future deep space missions and the journey to Mars. Isolation at the bottom of the ocean simulates life and work for astronauts in microgravity, making the 16-day mission an analog for future space exploration. They will test tools and techniques for future spaceflight and will conduct simulated spacewalks outside of their undersea habitat, Aquarius.
Inside Aquarius, the international crew will conduct a variety of research and operations studies, such as testing a mini DNA sequencer that NASA astronaut Kate Rubins also will be testing aboard the International Space Station, and a telemedicine device that will be used for future space applications. During their simulated spacewalks, the crew will collect samples for marine biology and geology studies, test software for managing operations, and participate in a coral restoration project. Throughout many of these tasks, the mission will also test communications delays similar to those that would be encountered on a mission to Mars.
"NEEMO 21 astronauts and crew will pioneer complex tasks on the seafloor utilizing the most advanced underwater navigation and science tools which are methodically choreographed to mimic a Mars exploration traverse," NEEMO Project Lead Bill Todd said. "Equipment can fail, communication can be challenging and tasks can take longer than expected. Other tasks go just as planned. All cases are equally beneficial. It's how we learn and how we are able to assemble all of this together so that someday we're prepared for the unexpected when we are living on and traversing the Martian surface."
NASA Astronaut Reid Wiseman will command the first eight days of the NEEMO 21 mission. Wiseman flew in space as part of Expedition 40/41 in 2014, spending 166 days living and working aboard the International Space Station. Wiseman was a naval aviator and test pilot prior to joining NASA in 2009.
NASA Astronaut Megan McArthur will command the second half of NEEMO 21, and will live in the habitat for the entire 16-day mission. McArthur flew on the STS-125 shuttle mission in 2009, and has served as a Mission Control spacecraft communicator for both space shuttle and space station missions. Prior to joining NASA, McArthur obtained a doctorate in oceanography at Scripps Institution of Oceanography.
Joining McArthur for the entire 16 days is ESA (European Space Agency) Astronaut Matthias Maurer. For the first eight days, Marc O'Griofa, chief medical and technology officer for Noninvasive Medical Technologies Inc., also will join Wiseman, McArthur and Mauerer. For the second half of the mission, McArthur and Mauerer will be joined by Florida Institute for Human and Machine Cognition Research Scientist Dawn Kernagis and Naval Postgraduate School Researcher Noel Du Toit.
The NEEMO crew and two professional habitat technicians will live 60 feet below the surface of the Atlantic Ocean in Florida International University's Aquarius Reef Base undersea research habitat 6.2 miles off the coast of Key Largo, Florida. NEEMO 21 is supported by the Human Health and Performance Directorate at NASA's Johnson Space Center with funding from ESA and partnerships with the Naval Postgraduate School, Embry Riddle Aeronautical University, Vega Telehealth, TeloRegen, and Johns Hopkins.
For more information about NEEMO, the crews and links to follow the mission on Facebook and Twitter, visit: www.nasa.gov/neemo.
For more information on other analog missions NASA is conducting, go to www.nasa.gov/analog
Image Credit: NASA/Karl Shreeves