By Dr. Jim Rice
Dr. Jim Rice is an Astrogeologist working at NASA Goddard Space Flight Center. For the 2010 Desert RATS field test, Dr. Rice will be the geology crew member on rover A in week one, as well as a member of the science backroom for week two.
Friday, September 3
I was just thinking today about our living conditions onboard Rover Alpha and how easy we have it compared to the Apollo astronauts who landed on the moon.
The last three Apollo lunar landing missions (Apollo 15-17) had a small lunar rover with them. However, their rover wasn't pressurized, meaning that they had to wear their spacesuits the whole time they were on Extra-Vehicular Activities (EVAs) (moonwalks and yes even the moondrives:-). Their EVAs typically lasted between 6-8 hours. When the Space Exploration Vehicle goes to the moon, Mars or asteroids it will be pressurized and the crews will not have to wear their space suits except when they go EVA!
Living in the rover these past four days has really made me appreciate even more what the Apollo crews went through on the lunar surface. We have a nice roomy rover that has even more room than the Lunar Module (LM) where they lived and slept for 3 days during their lunar missions. We even have full length sleeping quarters (I am 6'3″) and lots of room inside Rover Alpha. We get to drive in our street clothes pretty much, and cover much more territory than the Apollo crews. They had to return to the LM located at the same spot every day. We can roam and do not have to return to a set location since we are a home on wheels. We cover much more territory and distance covered translates into maximized scientific gain.
Our simulated mission living and conducting EVAs from the SEV is helping lay the foundation for crews of the future in exploring other worlds. Wow what a thrill this has been!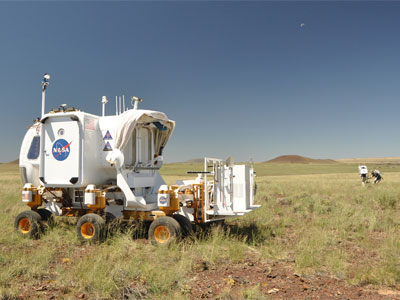 The Rover pulling along the Portable Utility Pallet (PUP).