By Dr. Jim Rice
Dr. Jim Rice is an Astrogeologist working at NASA Goddard Space Flight Center. For the 2010 Desert RATS field test, Dr. Rice will be the geology crew member on rover A in week one, as well as a member of the science backroom for week two.
Thursday, September 2
Some of you may be asking, why are the crews doing all this field geology on their traverses? Well, that's a good question, so let me give you my take on the importance of doing field geology on future NASA manned missions of exploration to the moon, Mars and/or asteroids.
First of all, fieldwork is the foundation of all geological studies, ranging from the interpretation of geochemical data to the creation of geophysical models. Without detailed observations of field relationships between collected samples, and an understanding of the geology in the region of interest, all other data cannot be interpreted correctly. Fieldwork is essential to the study of geology.
Conducting field geology is equivalent to law enforcement agencies performing crime scene investigations, which have been popularized by the TV series CSI. You see, a field geologist goes about his work in much the same manner. Although the geologist uses different tools and techniques, he still must be meticulous, detail oriented, curious and dedicated. If a geologist is well versed in the art and skill of field geology, then he can read rocks and the landscape like the pages in a book.
Indeed, to the trained field geologist, each rock and landscape records evidence of the geological history of a region. Thus, the field geologist is the most qualified person to have the honor of reading the geological history book of a region. When we explore the surfaces of other worlds, we are first and foremost doing field geology. Therefore, astronauts must be trained to be field geologists in order to maximize the science return of future missions. Field geology cannot be learned in a book or laboratory. One must go into the field. There is an old expression that says the best geologist is the one who sees the most rocks. Simple, but oh so true!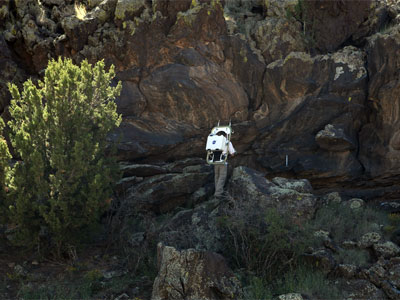 A Desert RATS crew member in the midst of a stunning rock formation in the Arizona desert.