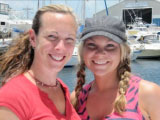 by Heather Paul and Amanda Knight
Analog Lead Technical Liaison
for Education and Public Outreach
Topside in Key Largo, Florida!
Mission Week 2 brings a new set of challenges to NEEMO 14, as we have switched to "delayed communications," similar to what we would do if the crew was living on Mars. We are simulating this by sending and receiving emails with a 20-minute delay. We are also recording video messages each day to send to Aquarius in response to the crew's video to the topside team. Aside from that, the crew is completely responsible for keeping the mission timeline on track and ensuring that the extravehicular activities (EVAs) are completed successfully and according to plan.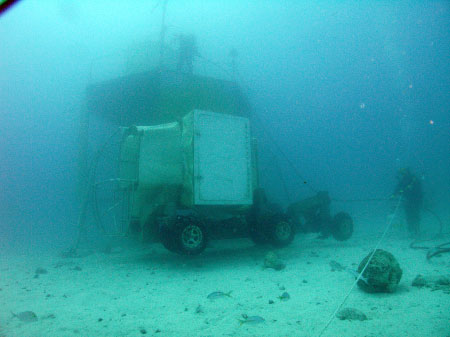 During Mission Day 8, the crew began the task of lifting the exploration vehicle from the ocean floor with the large crane.
Today's EVAs kicked off with Steve and Andrew in the morning, and Tom and Chris in the afternoon. More center of gravity (CG) positions were evaluated today. The visibility was a bit better, but as Commander Chris Hadfield described in our last live morning meeting with the crew for the week, the view out of the porthole window looked like there was a "blue fog" outside. Our diver support team was relieved that the sea conditions resulted in only 2-4 foot waves (compared to last week's range: up to 8 feet). You can imagine that it's a lot more fun to be underwater when the seas are that rough!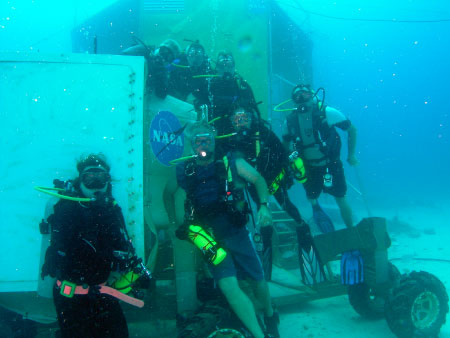 Any type of extreme mission requires many aspects of support, from mission control, scientists, doctors to support divers. Our divers gather around the exploration vehicle for a photo op.
Today was also a big day for education activities as the Aquarius crew connected to several schools through NASA's Digital Learning Network programs. These programs were webcast live on the internet, but, if you were not able to check them out… don't worry! We've uploaded them all to our YouTube site.
Astronaut Tom Marshburn was interviewed by Ronnie Crownover Middle School (Corinth, TX), Stephen F. Austin Middle School (Bryan, TX), Space Center Intermediate (Clear Lake, TX), McMillan Junior High (Wylie, TX), Travis Elementary (Baytown, TX), and The Harry Eichler School (Queens, NY) during the morning EVAs.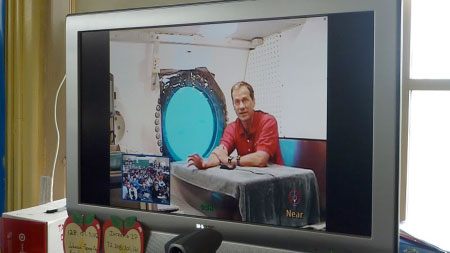 Astronaut and aquanaut Tom Marshburn speaks to hundreds of children during a live webcast events on Mission Day 8.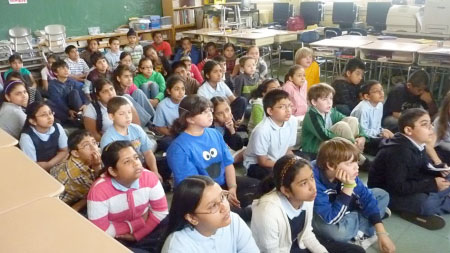 The Harry Eichler School's fifth grade students were amazed as they connect to Houston and to the Aquarius to chat with Astronaut Tom Marshburn.
Aquanaut Steve Chappell spoke with students from Magnolia High School (Magnolia, TX), Northwest High School (Justin, TX), Kadoka Middle School (Kadoka, SD), Dunbar Middle School (Lubbock, TX), Cole Middle School (Lancaster, CA) and Key Peninsula Middle School (Lakebay, WA).
Check out what the students had to say on the NEEMO 14 Facebook page.
During our evening debrief, we waited to receive the crew's video briefing of the days events and questions they may have. As the video began rolling, each crew member was wearing a different silly hat… and if they didn't have a hat, they made one out of whatever was laying around the habitat. They concluded the debrief with a challenge to the Mission Control Center support staff to be more creative than they were.
So, to finish up our evening, we all put on snorkeling masks and snorkels. At first, during the video, we were are very seriously and intently working away… until the Little Mermaid music broke into the background and we all put on a show. It was a great way to end a very long day! And it is such a pleasure to work with professionals who know when it's time to let loose… just a little.