By Chris Looper
Chris Looper is Chief Engineer of the EVA Branch of the Astronaut Office, and is splitting time as a test subject and as Traverse Director of Desert RATS 2010.
Mission Day 2 is drawing to a close and I have to say it has been better than a typical day in the office. I feel very fortunate to be able to participate in the Desert RATS testing. I have spent my career as an engineer at NASA testing and working operations of Extra-Vehicular Activity (EVA) hardware for the International Space Station. To be able to simulate moon and Mars surface operations, including EVA, for future NASA exploration is an ideal way for me to spend my work time. It is also inspiring to be working with a large group of people who are so dedicated to excel.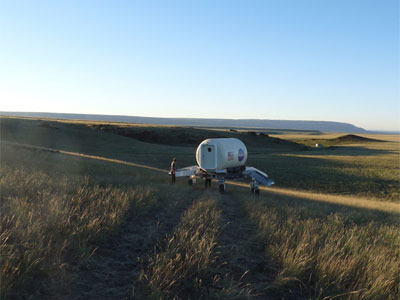 The ATHLETE rover, viewed from a distance, at the close of mission day 2.
I am writing this at 8 p.m. and I can see one of the rover team members is remotely updating files on the rover's computer (one of several). Jim and I accomplished all the objectives for the day with a total EVA time of 1 hour and 20 minutes, and approximately 10 km driven. We are at the planned camp site for night two, and it's a relief to be able to be following the plan that took so much effort for people to produce. We all understand that hardware failures can occur or bad weather can set in, which would force us to deviate from the designed mission plan.
Barring such events, however, we are driven to succeed. It is also important for us as test subjects to reflect on the main test objectives and try to capture while we are here immersed in it the key things we are learning. This is challenging because it is a test of integrated systems with typically more than one variable in play at once. Differentiating cause and effect from different variables can be hard.