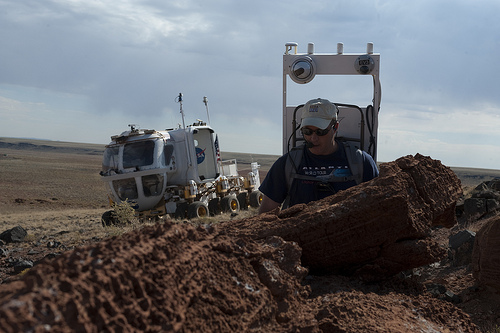 By NASA astronaut and DRATS crew member Scott Tingle.
Picture to the left shows Astronaut Scott Tingle performing an Extravehicular Activity (EVA) during DRATS 2011 testing.
Here we are at Test Day 8 of Desert RATS!  Crew A is currently executing their last day of extravehicular activities (EVA).  They are exploring the quarry (aka the Pit) and accumulating samples of the Black Point Lava Flow area.  Crew B is spending their last day in the Deep Space Habitat.  They are completing several maintenance, support and science tasks.  I got to tear down, clean, inspect and reassemble a differential from one of our space exploration vehicles (SEV).  I liked the procedure, and it gave me a chance to get my hands dirty!  Carolyn and Megan have been analyzing several samples obtained from the Hot Dog Hill area during the past couple of days.  Jake has been pressing hard to reach out to several schools, and has had great discussions with hundreds of America's future and current engineers, scientists, technicians and operators.

Operations have been getting stronger and more efficient every day.  The team, to include the crew, mission control, science backroom, engineering, technicians, safety and operations, has been getting stronger minute-by-minute.  Watching this process has been the most rewarding aspect of this event for me. 

Another exciting aspect of this test is the many educational and outreach events the team has completed.  We have been talking to high schools, elementary schools, NASA Visitor Centers and local tours.  All of the outreach events provided opportunities for audience members to ask questions.  We've had hundreds of great questions and discussion points.  The entire team has supported these events.  Our audiences have had the opportunity to interact with engineers, technicians, managers and crew.  A few outreach events remain for Thursday and Friday, and then Media Day on Monday.  You can review recordings of these events on Ustream, or see pictures on Flickr.  Take a look at the NASA Desert Rats web page, Facebook page or Twitter to get more information and links to hundreds of pictures and videos.

Thanks to all for your support of Desert RATS!