By Aquanaut Tim Peake (European Space Agency)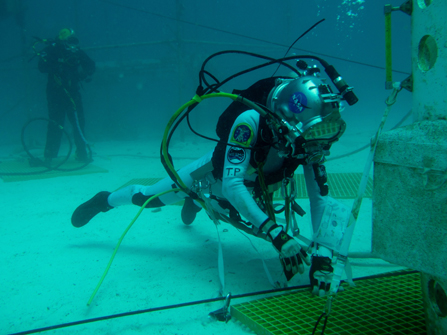 Image at Right: Tim Peake prepares to anchor so he has a stable platform from which to gather samples. 
"Good Teamwork" — it's something that makes the difference between winning or losing, success or failure and in extreme cases living or dying. As jargon, "teamwork" is easy enough to say — much harder to define and it can be a tricky little recipe to create.
When everyone is working selflessly towards a common goal…that's a good start…and as a crew member of NEEMO 16, I am witnessing daily so many fantastic examples of great teamwork. Often it's the little things that make all the difference, like the thankless task our support divers had removing the trash bags from Aquarius this morning, or coming in from nearly five hours in the water and being met by Steve offering hot chocolate and wasabi peas. I had told Steve that I didn't need anything, but he knew I did…and he was right!
Then there is the bigger picture, the huge support infrastructure from Mission Control and the immense logistical effort to ensure that we have the right tools, equipment, communications, medical support and IT to do the job, without which we could not accomplish the mission. There are people enduring many hours a day in a five-foot Atlantic swell above us, or monitoring computer screens 24/7 in windowless rooms, not to mention those topside divers and supervisors who are looking after us in the water and ensuring that we have a seamless transition from one task to the next.
And then there are our two habitat technicians James and Justin, who quietly go about their business (OK, maybe James is not that quiet!) of knowing exactly what we need and when we need it…keeping us on track and safe in our temporary underwater home. And I have only mentioned a fraction of the team so far.
The fact that so many people have come together from such diverse backgrounds and cultures, and in a short space of time gelled together into a tight knit and highly efficient team speaks volumes about the common goal that has united this team…pushing the boundaries of humanity's exploration into the solar system. And that is something most definitely worthy of all of our effort.
So NEEMO 16 has successfully achieved that tricky little recipe of great teamwork and as with all good recipes this also has a lot to do with the chef…but that is a subject for another blog…LEADERSHIP!