NASA's Orion Program has completed the System Acceptance Review and Design Certification Review to certify the Artemis I spacecraft is fit for flight, ready to venture from Earth to the lunar vicinity, and return home for landing and recovery.
The review examined every spacecraft system, all test data, inspection reports, and analyses that support verification, to ensure every aspect of the spacecraft has the right technical maturity.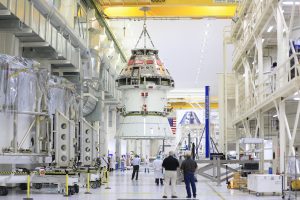 In effect, the review gives the stamp of approval to the entire spacecraft development effort and is the final formal milestone to pass before integration with the Space Launch System rocket.
In addition to spacecraft design, the review certified all reliability and safety analyses, production quality and configuration management systems, and operations manuals.
Orion, the Space Launch System, and Exploration Ground Systems programs are foundational elements of the Artemis program, beginning with Artemis I, the first integrated flight test of Orion and SLS next year. Artemis II will follow as the first human mission, taking astronauts farther into space than ever before.