The first two CubeSats are aboard for the Artemis I mission as secondary payloads that will conduct a range of science experiments and technology demonstrations in deep space.
In preparation for their missions, Lunar IceCube and Near-Earth Asteroid (NEA) Scout have been integrated with their dispensers and installed in the Orion stage adapter at NASA's Kennedy Space Center in Florida. Housed in the spaceport's Space Station Processing Facility, the Orion stage adapter connects the top of the Space Launch System (SLS) rocket to the Orion spacecraft. The small satellites, roughly the size of large shoeboxes and weighing no more than 30 pounds, enable science and technology experiments that may enhance our understanding of the deep space environment, expand our knowledge of the Moon and beyond, and demonstrate technology that could open up possibilities for future missions. The payloads will deploy from the rocket after the Orion spacecraft  separates from the rocket's Interim Cryogenic Propulsion Stage that provides the propulsion to send Orion to the Moon.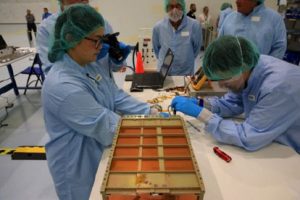 NEA Scout will be the first CubeSat to travel to an asteroid. The small payload was developed by NASA's Marshall Space Flight Center in Huntsville and the agency's Jet Propulsion Laboratory in Southern California. NEA Scout will be propelled by a square-shaped solar sail that will measure about 925 square feet (86 square meters) when unfurled. The sail is made of an aluminum-coated plastic film that is thinner than a human hair, with an area about the size of a racquetball court. NEA Scout is outfitted with a high-powered camera that will take photographs of and collect data from a near-Earth asteroid that represents asteroids that may one day become destinations for human exploration. Observations will include the asteroid's position in space, its shape, rotational properties, spectral class, and geological characteristics. NEA Scout's mission will take approximately two years.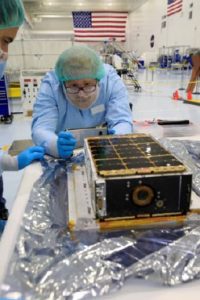 Lunar IceCube will search for water ice and other resources from above the surface of the Moon. It was developed by Morehead State University in Kentucky, Busek Space Propulsion and Systems of Massachusetts, NASA's Goddard Space Flight Center in Greenbelt, Maryland, JPL, and NASA's Katherine Johnson Independent Verification and Validation Facility in Fairmont, West Virginia. Once deployed, the CubeSat will take up to nine months to arrive at its destination and begin orbiting the Moon. Using state-of-the-art miniature electric thrusters for propulsion and relying on gravity assists from Earth and the Moon, Lunar IceCube will search for water and other materials in ice, liquid, or vapor states that may be useful for future exploration missions. Once in orbit, Lunar IceCube's mission could last one to six months and the ground station at Morehead State will be used to track the CubeSat for the duration of the mission.
SLS will launch America into a new era of exploration to destinations beyond Earth's orbit. On its first flight, NASA will demonstrate the rocket's heavy-lift capability and send an uncrewed Orion spacecraft into deep space. The agency is also taking advantage of additional available mass and space to provide the rare opportunity to send several CubeSats to conduct science experiments and technology demonstrations in deep space.