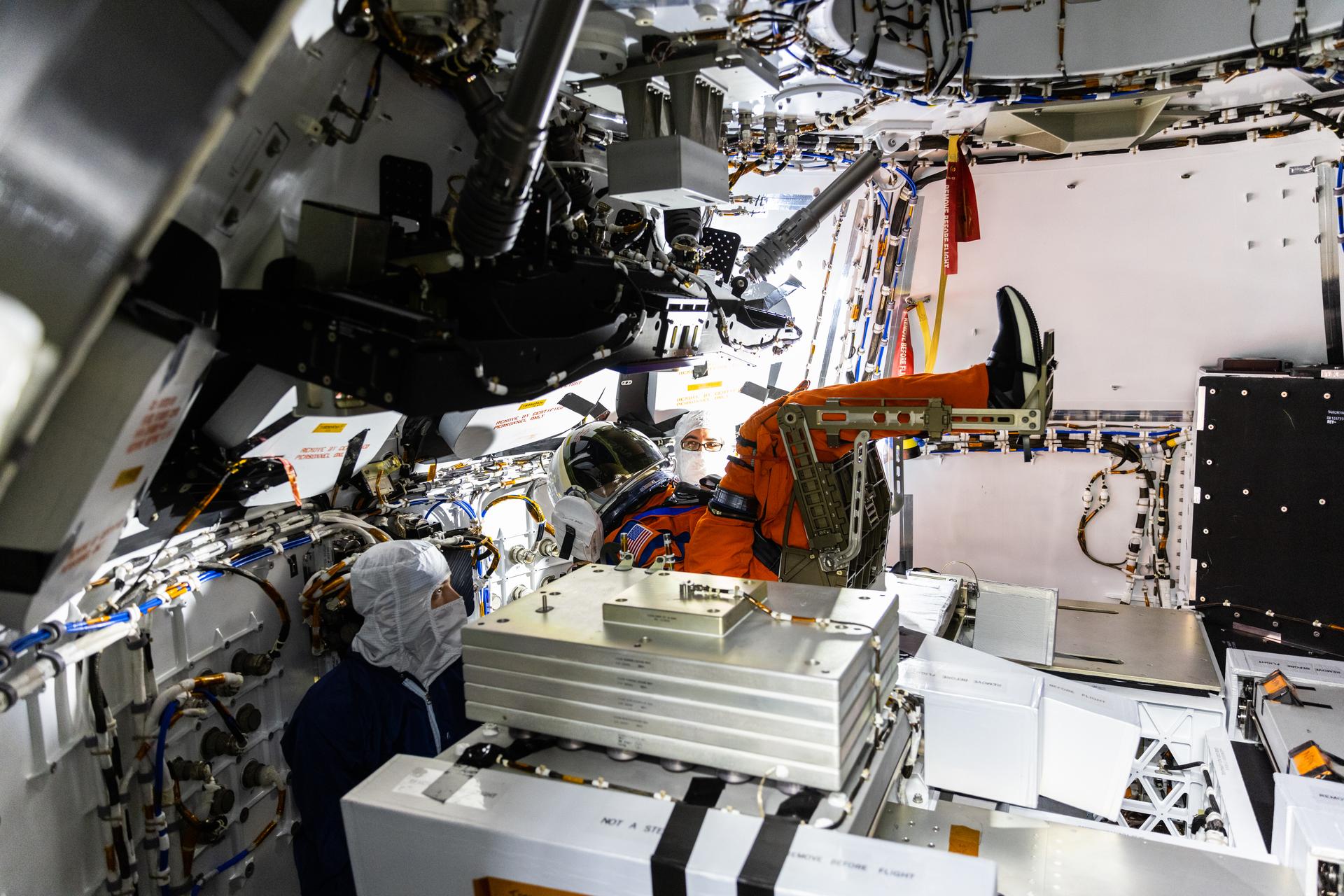 As NASA's first launch attempt for Artemis I approaches, teams are ahead of schedule to complete final checks and closeouts of the Space Launch System (SLS) rocket and Orion spacecraft in the Vehicle Assembly Building (VAB) at the agency's Kennedy Space Center in Florida. NASA is targeting launch on Aug. 29 during a two-hour launch window that opens at 8:33 a.m. EDT, with backup opportunities on Sept. 2 and 5. A successful launch on Aug. 29 would result in a mission duration of approximately 42 days, with a targeted Orion splashdown on Oct. 10.  
Teams are retracting the VAB platforms that provide access to the rocket and spacecraft after engineers completed installing thermal blankets on the interim cryogenic propulsion stage around the launch vehicle stage adapter. Technicians also replaced the engine section flight doors of the rocket's core stage. Final closeout inspections are complete on those sections  and they are ready for flight.   
On the 212-foot-tall core stage, teams started flight closeouts inspections. Coming up, engineers will test the flight termination system elements in the intertank of the core stage and the forward skirts of the solid rocket boosters before SLS rolls out to the pad for launch.  
Launch and flight controllers, along with support personnel across NASA centers, completed their final launch countdown simulation ahead of the mission. The team has conducted many launch and flight simulations to prepare for Artemis I. 
Technicians also finished replacing the inflatable seal that sits between the mobile launcher's crew access arm and Orion's launch abort system and crew module to prevent anything from the outside environment getting inside the capsule. Teams have extended the crew access arm and are conducting final powered testing and installing the "passengers" that are part of the MARE investigation before closing the hatch ahead of rolling out to the launch pad, currently scheduled for Aug. 18.  
NASA also held two briefings earlier this week, a mission overview briefing and a detailed flight briefing, in which key personnel provided updates and specifics about the flight test.