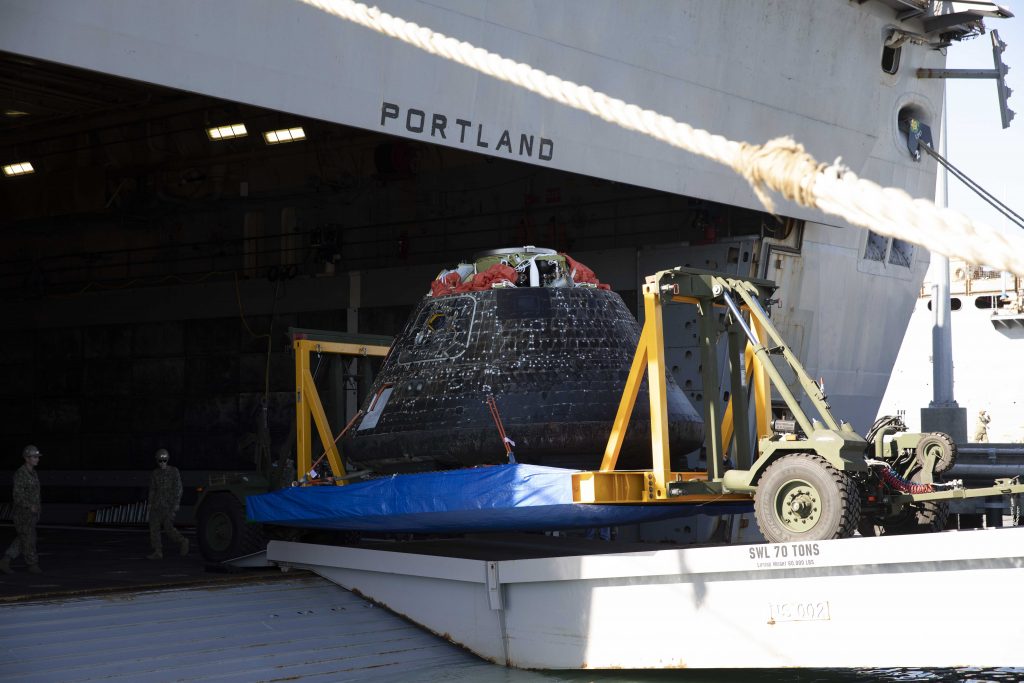 Team members with NASA's Exploration Ground Systems program successfully removed the Artemis I Orion spacecraft from the USS Portland Dec. 14, after the ship arrived at U.S. Naval Base San Diego a day earlier. The spacecraft successfully splashed down Dec. 11 in the Pacific Ocean west of Baja California after completing a 1.4 million-mile journey beyond the Moon and back, and was recovered by NASA's Landing and Recovery team and personnel from the Department of Defense. 
Engineers will conduct inspections around the spacecraft's windows before installing hard covers and deflating the five airbags on the crew module uprighting system in preparation for the final leg of Orion's journey over land. It will be loaded on a truck and transported back to the agency's Kennedy Space Center in Florida for post-flight analysis.  
Before its departure, teams will open Orion's hatch as part of preparations for the trip to Kennedy and remove the Biological Experiment-01 payload which flew onboard Orion. The experiment involves using plant seeds, fungi, yeast, and algae to study the effects of space radiation before sending humans to the Moon and, eventually, to Mars. Removing the payload prior to Orion's return to Kennedy allows scientists to begin their analysis before the samples begin to degrade.  
Once it arrives to Kennedy, Orion will be delivered to the Multi-Payload Processing Facility where additional payloads will be taken out, its heat shield and other elements will be removed for analysis, and remaining hazards will be offloaded.