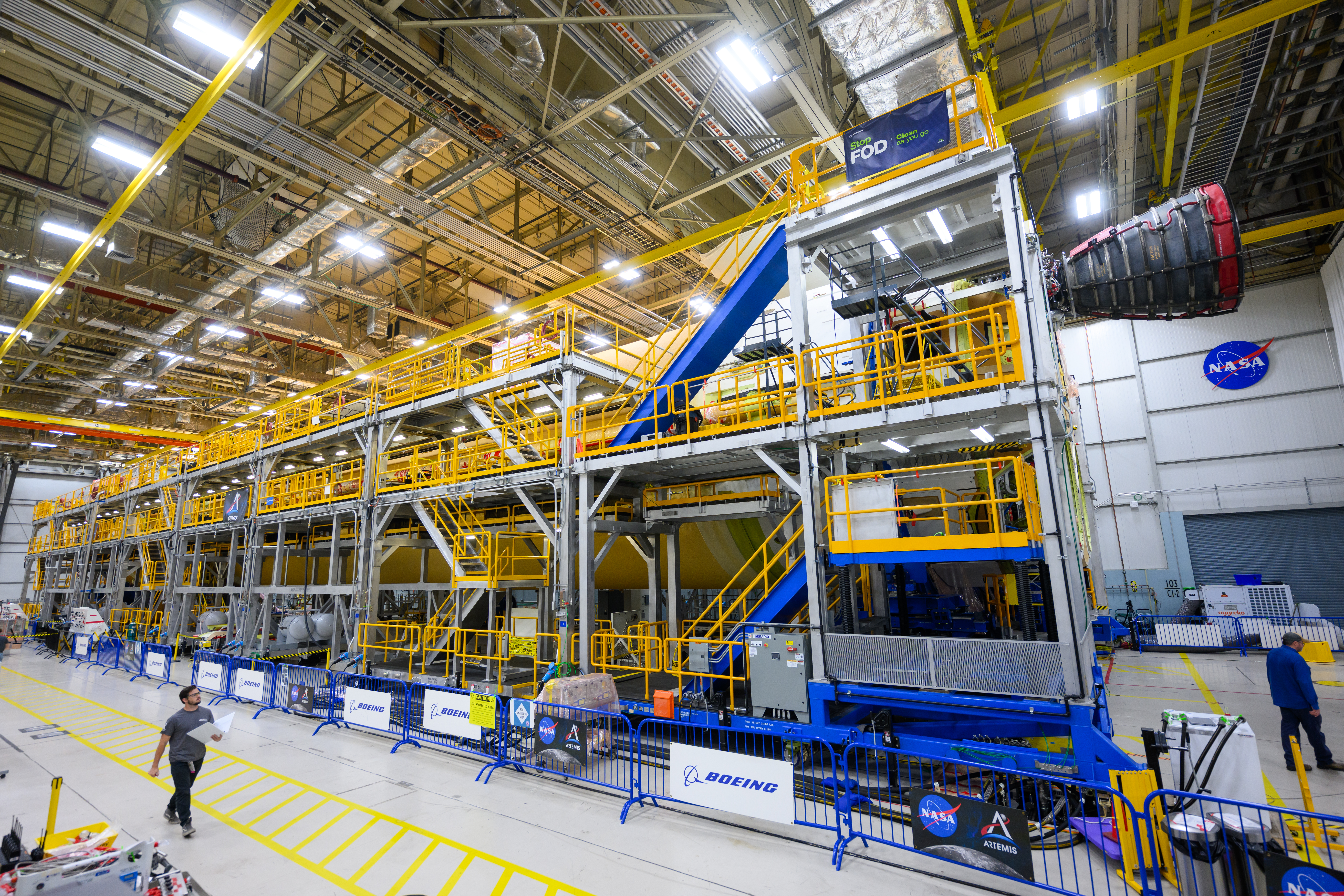 Technicians at NASA's Michoud Assembly Facility in New Orleans have installed the first of four RS-25 engines on the core stage of the agency's SLS (Space Launch System) rocket that will help power NASA's first crewed Artemis mission to the Moon. During Artemis II, NASA astronauts Reid Wiseman, Victor Glover, Christina Koch, and CSA (Canadian Space Agency) astronaut Jeremy Hansen will launch on SLS and journey around the Moon inside the Orion spacecraft during an approximately 10-day mission in preparation for future lunar missions.
The Sept. 11 engine installation follows the joining of all five major structures that make up the SLS core stage earlier this spring. NASA, lead RS-25 engines contractor Aerojet Rocketdyne, an L3 Harris Technologies company, and Boeing, the core stage lead contractor, will continue integrating the remaining three engines into the stage and installing the propulsion and electrical systems within the structure.
All four RS-25 engines are located at the base of the core stage within the engine section, which protects the engines from the extreme temperatures during launch and has an aerodynamic boat tail fairing to channel airflow. During launch and flight, the four engines will fire nonstop for over eight minutes, consuming propellant from the core stage's two massive propellant tanks at a rate of 1,500 gallons (5,678 liters) per second.
Each SLS engine has a different serial number. The serial number for the engine installed Sept. 11 in position two on the core stage is E2059. It along with the engine in position one, E2047, previously flew on space shuttle flights. E2047 is the most veteran engine of the entire set flying on Artemis II with 15 shuttle flights, including STS-98, which delivered the Destiny Laboratory Module to the International Space Station in 2001. The engines installed in positions three and four (E2062 and E2063) are new engines that include previously flown hardware.
NASA is working to land the first woman and first person of color on the Moon under Artemis. SLS is part of NASA's backbone for deep space exploration, along with Orion and the Gateway in orbit around the Moon, and commercial human landing systems. SLS is the only rocket that can send Orion, astronauts, and supplies to the Moon in a single mission.
For more on NASA SLS visit: