Researchers and NASA managers will discuss details today about the extensive array of scientific work that has been under way on the International Space Station during an hourlong forum to be broadcast on NASA TV beginning at 3:30 p.m. EDT.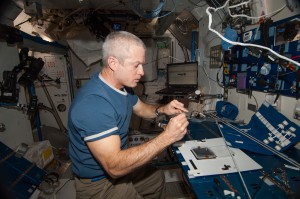 The research covers a wide area of specialties and specific experiments are chosen for inclusion in the station's manifest based on a wide number of criteria. The factors include evaluating how the research can help NASA understand and prepare for the conditions humans will face when astronauts venture beyond Earth orbit in coming years to explore asteroids and Mars.
NASA's Commercial Crew Program could enable a boost in the amount of future research on the orbiting laboratory by allowing a larger crew to work on the station, thus increasing the amount of time astronauts can devote to scientific duties.
Watch NASA TV to find out more, or go to www.nasa.gov/ntv to watch online.