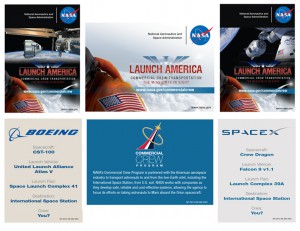 One week ago, NASA announced its selection of Boeing and SpaceX to transport our astronauts to and from the International Space Station from the United States. Now we have quick reference collectible cards with highlights of Boeing's CST-100, SpaceX's Crew Dragon and NASA's Commercial Crew Program that you can print and share with your friends.
Our goal is to complete certification of the crew transportation systems in 2017 — including a test flight to the station with one NASA astronaut aboard — to meet NASA's vital crew rotation and lifeboat services needs. By flying four astronauts to the orbiting laboratory at a time, the CST-100 and Crew Dragon enable NASA to increase the number of crew members on the station, doubling the amount of scientific research that can be performed on the one-of-a-kind facility as it orbits about 250 miles above Earth.
To download and print the cards, click on each of these links: Boeing CST-100, SpaceX Crew Dragon, Commercial Crew Program. For best results, use card stock and select auto-rotate and center and the two-sided option in your printer settings. If the two-sided option isn't available, print page 1 and reload the paper before printing page 2.