NASA's Commercial Crew Program wants you to help draw out our future in space exploration! We're going to put out a calendar for 2015 in a few weeks and it will be up to you to decide how it will look. The best thing is that it will be really easy, and you could see your work featured on the Commercial Crew Website! (*This contest is open to all children ages 4 to 16 regardless of NASA affiliation)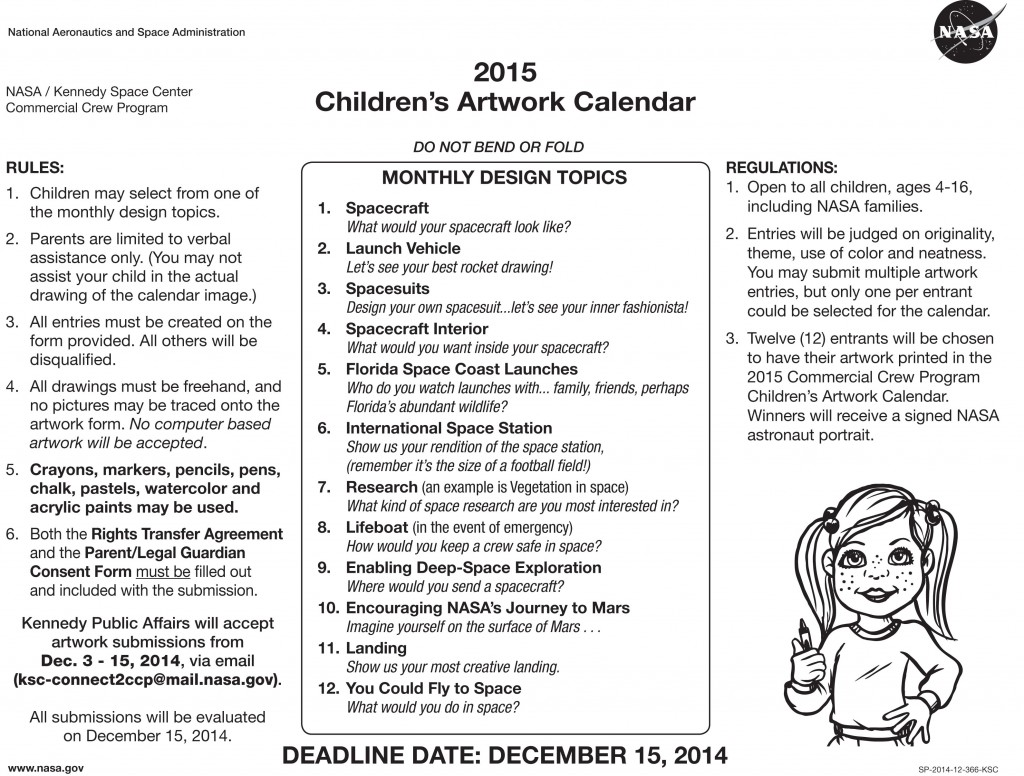 We have some rules for submitting your drawings, so you'll have to print out a few forms then fill them out with your parent's help, scan them to send them back to us via email at ksc-connect2ccp@mail.nasa.gov. We're also including a template for you to draw on, which will help us lay out the calendar.
We're looking for the best drawings in 12 categories, so get out your art tools and let your imagination fly through space with us! One last thing: the deadline for submissions is Dec. 15 at noon Eastern. Now the fun stuff, the categories . . .
1. Spacecraft: NASA's spacecraft of the past had thousands of nobs and dials. Today's commercial crew spacecraft will use touch screens, 3D printed seats and engines, and will be lightweight, but tough enough to withstand meteorites. What would your spacecraft look like?
2. Launch Vehicle: The commercial crew rockets that will carry astronauts to the International Space Station will be smaller than NASA's previous Saturn V and space shuttle systems. Their missions are different, so their capabilities are different. Think of it like riding your bike to see your next-door neighbor, instead of driving a semi-truck on a cross-country trek. Let's see your best rocket drawing!
3. Spacesuits: An astronaut's spacesuit is like his or her own personal spacecraft. Commercial crew spacesuits will keep astronauts safe by providing breathable air and a cool temperature. They also will enable constant communication with people monitoring their health here on the ground. Design your own spacesuit . . . let's see your inner fashionista!
4. Spacecraft Interior: Every spacecraft's interior has been unique and advanced for its time. Apollo was very different from the space shuttle, and both are very different from the commercial crew systems that astronauts will use to fly to the International Space Station. Today's spacecraft could feature tablet-like technology, 3D printed seats, Wi-Fi and much more. What would you want inside your spacecraft?
5. Florida Space Coast Launches: The rumble . . . the glow . . . the excitement! Every time NASA has launched people off the surface of Earth and into space, it has been from Florida's Space Coast. In the next couple years, we will see commercial crew engines glow orange and plumes of smoke as astronauts again launch to the International Space Station from Florida. In the 2030s, we will also see astronauts launching from Florida's Kennedy Space Center as they begin their journey to Mars. Who do you plan to watch launches with? Family, friends, perhaps Florida's abundant wildlife?
6. International Space Station: Look up! The International Space Station is orbiting about 250 miles above the surface of Earth, 24 hours a day, seven days a week, 365 days a year. On board, astronauts conduct ground-breaking research that helps us here on Earth. They also are learning what it takes to live for long periods of time in space, which will help them on their journey to Mars. Commercial crew will help add an additional crew member to the station, essentially doubling the research potential of today. Show us your best rendition of the space station, remember it's the size of a football field!
7. Research: Every day, astronauts perform research aboard the International Space Station, which is commercial crew's ultimate destination. That research makes our lives better here on Earth, helps us understand more about our own planet and prepares us for longer missions to Mars. What kind of space research are you most interested in?
8. Lifeboat: Similar to lifeboats on a cruise ship, commercial crew spacecraft that will fly astronauts to the International Space Station are designed to safely and quickly evacuate the station's crew in an emergency. How would you keep a crew safe in space?
9. Enabling Deep-Space Exploration: Commercial crew spacecraft will go to the International Space Station about 250 miles above Earth. But the solar system has hundreds of other interesting places, too! Future astronauts could use other spacecraft to explore asteroids that are close enough to Earth, or maybe even a comet. Where would you send a spacecraft
10. Encouraging NASA's Journey to Mars: By encouraging private companies to provide human transportation services to and from low-Earth orbit – a region NASA's been visiting since 1962 – America's space agency will get the most research and experience out of the nation's orbiting laboratory. Commercial crew allows NASA to expand its focus to build spacecraft and rockets for flights to Mars.  Imagine yourself on the surface of Mars . . .
11. Landing: Spacecraft landings are quite impressive. After flying through space and re-entering the atmosphere at 17,500 miles per hour, spacecraft have to land smoothly to protect the astronauts and scientific research they carry. Commercial crew spacecraft designers are looking at options to land with parachutes and airbags, fly to a runway, similar to an airplane, or land using only rocket engines. Show us your most creative landing.
12. You Could Fly to Space: Remember when only astronauts could go to space? NASA won't be the only customer for new commercial crew spacecraft. Companies will own and operate their crew transportation systems and be able to sell services to other customers . . . will you be one of them? What would you do in space?
And here's all you need to get started: CCP-Planner-Artwork-Form_final