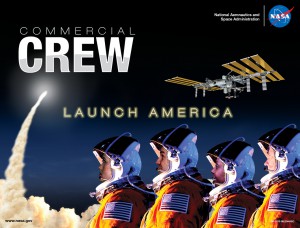 NASA took another step toward returning America's ability to launch crew missions to the International Space Station from the United States in 2017. Commercial Crew ordered its first crew rotation mission from The Boeing Company. SpaceX is expected to receive its first order later this year. Determination of which company will fly its mission to the station first will be made at a later time.
"Final development and certification are top priority for NASA and our commercial providers, but having an eye on the future is equally important to the Commercial Crew and station programs," said Kathy Lueders, manager of Commercial Crew. "Our strategy will result in safe, reliable and cost-effective crew missions."
Missions flown to the station on Boeing's CST-100 and SpaceX's Crew Dragon spacecraft will restore America's human spaceflight capabilities and increase the amount of scientific research that can be conducted aboard the orbiting laboratory. A standard mission to the station will carry four NASA or NASA-sponsored crew members and about 220 pounds of pressurized cargo. The spacecraft will remain at the station for up to 210 days and serve as an emergency lifeboat during that time.
"Commercial Crew launches are critical to the International Space Station Program because it ensures multiple ways of getting crews to orbit," said Julie Robinson, International Space Station chief scientist. "It also will give us crew return capability so we can increase the crew to seven, letting us complete a backlog of hands-on critical research that has been building up due to heavy demand for the National Laboratory."