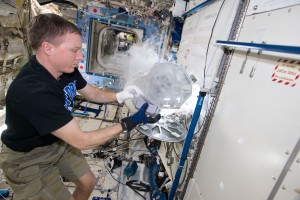 The chance to add an additional crew member to the International Space Station once Commercial Crew spacecraft become operational will greatly increase the science potential for the orbiting laboratory. The station's standard complement is six residents and that allows for about 40 hours a week of research work with the rest of the time dedicated to station operations and other duties. Adding just one more person to the station crew will enable about 40 more hours a week for scientific work.
The additional time will boost opportunities requiring human interaction, such as biological research key to understanding survival on a mission into deep space, growth experiments and space-based observations. Added together, a doubling of scientific time would better utilize the unique platform humans assembled 250 miles above Earth and have occupied for almost 15 years.
A key step to this research progress is the completion and operation of the Boeing CST-100 and SpaceX Crew Dragon systems now in the final phases of development with Commercial Crew. Both companies and NASA are making steady advances toward uncrewed flight tests before undertaking crew flight tests to the station. Together, the space agency and industry are paving the way to certification and operational missions, carrying four astronauts and a couple hundred pounds of powered cargo to the station at a time.
Learn more about the advancements currently being made on board the station and what the future holds by following along with the ISS R&D Conference in Boston this week via social media with #ISSRDC.