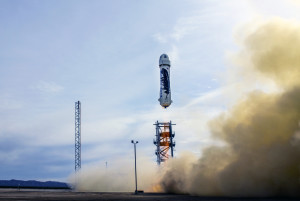 Blue Origin made history Monday night with the launch into space and safe recovery of an unpiloted New Shepard Crew Capsule and its Propulsion Module. Flying from the company's Van Horn launch site in West Texas, the Blue Origin capsule and propulsion module rocketed more than 100 kilometers into the sky, meaning the capsule reached an altitude considered space. The capsule, designed to eventually carry humans into the realm of microgravity, parachuted safely to the Texas desert area.
Just as impressive, the propulsion module that lofted the capsule returned to Earth and fired its BE-3 engine to make a soft-landing on a concrete pad to complete the flight as well as a full recovery of the propulsion module. The successful flight test was a major accomplishment to the private company which is designing a propulsion module, engines and capsule with an eye toward launching people into orbit in the future.
Watch for the Blue Origin Flight test in partnership with NASA's Commercial Crew  Program next year.