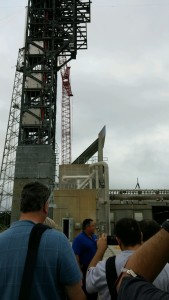 Commercial Crew team members with NASA and our aerospace industry partners showed what a season of advances has meant for the launch sites where NASA astronauts will lift off on missions to the International Space Station in the near future.
At Launch Pad 39A, Carol Scott, who works technical integration for NASA's Commercial Crew Program, showed news media and NASA Social participants the new look SpaceX is applying to the launch complex to make it suit the company's needs for Crew Dragon missions.
Boeing and United Launch Alliance spent the last couple months building a new Crew Access Tower at Space Launch Complex 41, the place where Boeing's CST-100 Starliner will fly from on missions with astronauts. NASA's Steve Payne, who works in Launch Integration, and ULA's Howard Biegler, Launch Operations lead of Human Launch Service, detailed the work that went into constructing the tower that will contain all the systems needed to safely support human crews and ground support staff for a Starliner launch.
The progress is important for NASA because it will restore American capabilities to launch astronauts to low-Earth orbit. For the orbiting laboratory of the space station, the flights will increase the crew by one and double the amount of time astronauts can devote to cutting-edge research to answer the vexing issues of a journey to Mars and to conduct science off the Earth for all those on the Earth.