The small jets designed to steer Boeing's CST-100 Starliner spacecraft in orbit were fired in a vacuum chamber recently at NASA's White Sands Test Facility in New Mexico. Testing continues for elements of the new Starliner spacecraft before components are installed into the first space-bound capsule. Aerojet Rocketyne built the reaction control engines and used a chamber to pulse fire three engines up to 4,000 times for a total of 1,600 seconds each. Both are record times for lightweight thrusters with composite chambers.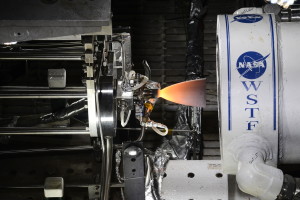 Aerojet Rocketdyne is testing and will provide the service module propulsion system production hardware, including launch abort engines, orbital maneuvering and attitude control engines and reaction control system engines. Boeing will assemble hardware kits into the service module section of the Starliner spacecraft at its Commercial Crew and Cargo Processing Facility at NASA's Kennedy Space Center in Florida.
The Starliner is one of two spacecraft in development in partnership with NASA's Commercial Crew Program. While Boeing develops and manufactures Starliners, SpaceX is doing the same with its own spacecraft, Crew Dragon. Both companies plan to launch astronauts from Florida's Space Coast on missions to the International Space Station. With up to four astronauts at a time, plus more than 200 pounds of cargo, the new line of spacecraft will allow the station's crew to grow to seven. That addition gives astronauts In orbit another 35 hours of research time to enhance the science conducted on the orbiting laboratory.
(Photo credits: Aerojet Rocketdyne)