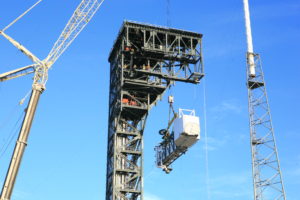 A 50-foot-long, 90,000-pound bridge to space known as the Crew Access Arm was installed today at Space Launch Complex 41 at Cape Canaveral Air Force Station adjacent to NASA's Kennedy Space Center in Florida. Workers have been modifying the launch pad so astronauts can climb aboard Boeing's CST-100 Starliner spacecraft ahead of NASA Commercial Crew Program missions to the International Space Station.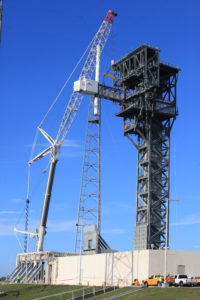 When poised for space on launch day, the Starliner will be standing atop a United Launch Alliance Atlas V rocket. The arm and a White Room were attached to the Crew Access Tower, a 200-foot-tall structure at the launch pad that has been built specifically for the unique needs of astronauts. For example, crews wearing pressure suits and helmets need more room to move around than people wearing regular clothes, so the areas and elevators are wide enough to accommodate them. There also was special care to avoid anything that could snag a spacesuit.
The construction by ULA has taken place even as the pad has remained active for launches of the Atlas V on missions to deliver satellites into orbit and to loft NASA spacecraft on their own missions, including September's launch of the OSIRIS-REx asteroid sampling spacecraft.
The arm's placement is the latest in a growing list of accomplishments for the Commercial Crew Program and its partners as NASA works to restore America's capability to launch astronauts to the space station from its own soil. With Boeing's Starliner and SpaceX's Crew Dragon flying astronauts to the station, the crew there can grow to seven residents and the amount of science time available for astronauts will double. That means enhanced research opportunities to figure out the mysteries of long-duration spaceflight as well as more time to work on aspects of life on Earth that can be improved with the help of science performed in space.
"You have to stop and celebrate these moments in the craziness of all the things we do," said Kathy Lueders, manager of NASA's Commercial Crew Program. "It's going to be so cool when our astronauts are walking out across this access arm to get on the spacecraft and go to the space station."
Photo credit: NASA/Kim Shiflett