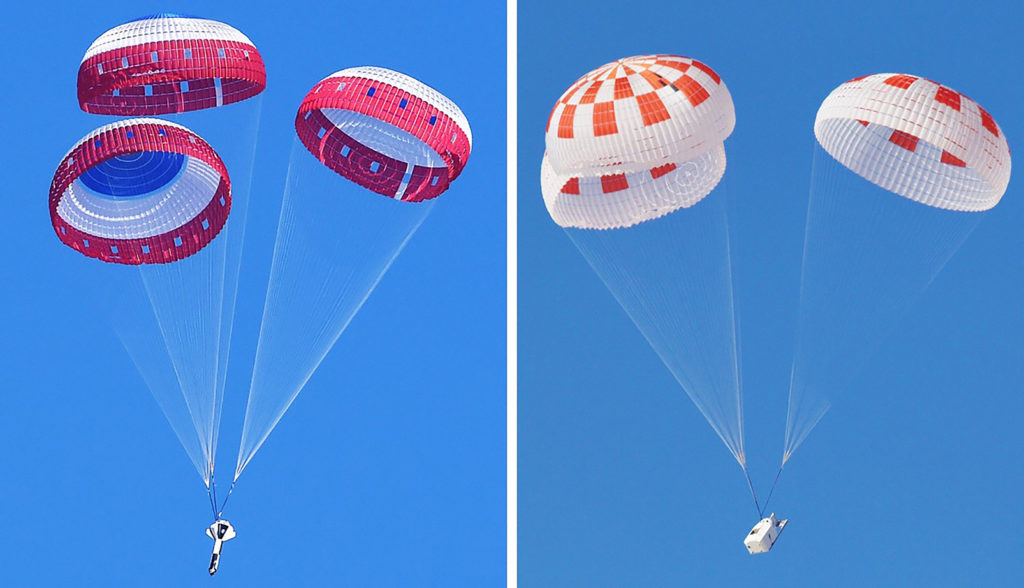 Crew safety is paramount in the return of human spaceflight launches from Florida's Space Coast, and the latest round of parachute testing is providing valuable data to help industry partners Boeing and SpaceX meet NASA's requirements for certification.
On March 4, SpaceX performed its 14th overall parachute test supporting Crew Dragon development. During this test, a C-130 aircraft transported the parachute test vehicle, designed to achieve the maximum speeds that Crew Dragon could experience on reentry, over the Mojave Desert in Southern California and dropped the spacecraft from an altitude of 25,000 feet. In February, the first in a series of reliability tests of the Boeing flight drogue and main parachute system was conducted by releasing a long, dart-shaped test vehicle from a C-17 aircraft over Yuma, Arizona. Both tests resulted in successful touchdowns of the parachute systems.
SpaceX will conduct its next parachute system test in the coming weeks in the California desert, and Boeing is scheduled for its third of five planned qualification tests of its parachute system in May. Both providers' parachute system qualification testing is scheduled to be completed by fall 2018. The partners are targeting the return of human spaceflight from Florida's Space Coast this year, and are currently scheduled to begin flight tests late this summer.