NASA's Commercial Crew Program (CCP) and private industry partners, Boeing and SpaceX, are on the verge of making history with the return of human spaceflight launches to the International Space Station from United States soil.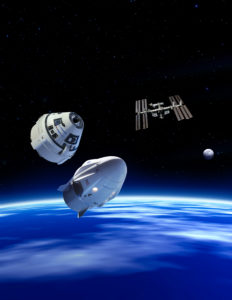 The upcoming flights of the SpaceX Crew Dragon and Boeing CST-100 Starliner spacecraft will be the first time NASA has sent astronauts to space on systems owned, built, tested and operated by private companies. By allowing industry to provide transportation services to the space station, the agency can concentrate on developing emerging technologies for exploring distant destinations well beyond low-Earth orbit such as the Moon and Mars.
In September 2014, the agency announced the selection of Boeing and SpaceX to transport U.S. crews to and from the space station. This also will mark the return of launching U.S. astronauts on American spacecraft and rockets to low-Earth orbit since the final space shuttle mission in 2011.
The inaugural flight of SpaceX's Crew Dragon, known as Demo-1, will be uncrewed and is designed to validate end-to-end systems and capabilities, leading to certification to fly a crew. SpaceX's first crewed flight, Demo-2, will fully demonstrate the company's ability to safely fly NASA astronauts Bob Behnken and Doug Hurley to the space station. Behnken and Hurley have each flown two space shuttle missions.
In the near future, the uncrewed, opening act for Boeing's Starliner, known as its Orbital Flight Test, will demonstrate the human transportation capabilities in advance of certification to fly astronauts to space. The first flight with crew aboard a Starliner, the Crew Flight Test, will fully demonstrate Boeing's ability to fly humans safely to and from the International Space Station. Onboard will be NASA astronaut Mike Finke, a veteran of three spaceflights; NASA astronaut Nicole Mann; and Boeing astronaut Chris Ferguson, who previously led Starliner's Crew and Mission Systems and flew three space shuttle missions.
CCP will provide safe, reliable and cost-effective access to low-Earth orbit destinations, and it will end reliance on Russian Soyuz spacecraft. As a result, the station's current crew of six can grow, enabling more research aboard the unique microgravity laboratory.