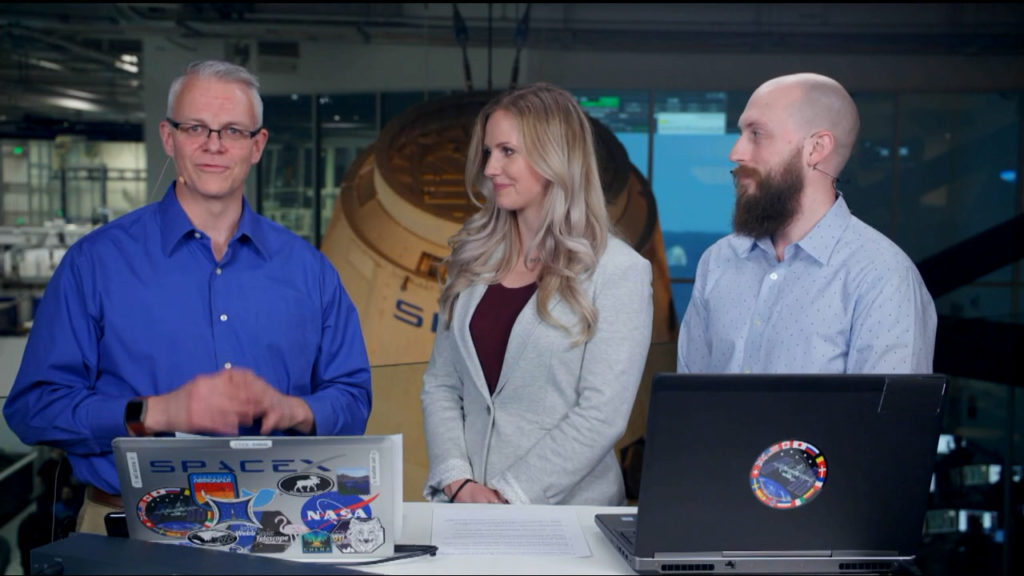 The following is a transcript of SpaceX Director of Crew Mission Management Benji Reed's comments during the NASA TV broadcast following Crew Dragon splashdown on Friday, March 8:
To be honest, I'm shaking, and I'm super excited. It was an incredible journey to get to this moment. The teams have just done an amazing job, both the SpaceX and the NASA teams jointly. Fundamentally this is a great day for the nation, for SpaceX, for NASA, for all of us—really for the world.
I think it was Anne (McClain) who said this is the first time in 40 years that we've had a spacecraft designed for humans (test) fly, and not only did she fly and go to the space station and do everything she was supposed to do, but we brought her home safe and sound landing in the Atlantic. It's amazing.
I can't believe how well the whole mission has gone. I think on every point, everything's been nailed, all the way along—particularly this last piece. We were all very excited to see re-entry and parachute and drogue deploy and main deploy, splashdown—everything happened just perfectly, right on time the way that we expected it to. It was beautiful.
As a team, SpaceX, we're just super honored to have the opportunity to have done this mission, to work with NASA, to work through this. You know, Demo-1 is fundamentally this first major milestone in our process towards certification. I always like to remind everybody that this is a whole system—there's Crew Dragon, there's the Falcon that's going to be certified to fly humans, there's also the ground systems, the operations, our entire factory and production system—everything that we do is being certified to be able to fly astronauts safely, and this is a huge step towards that.
If you kind of look back over what happened over the last two days, which just seems incredible to me, really it's the culmination of years of work to get us to this day. We had launch, Crew Dragon deployed, and we saw beautiful free flight. One of the things that's hard to test when you're on the ground is how fluids work in microgravity. And what's amazing is everything worked just like we expected.
We got to station, docked, and, you know, it's the first time I think in history a commercial vehicle and also an American vehicle has docked autonomously to the International Space Station, so that's super cool. (Crew Dragon was) loaded with all kinds of sensors, all kinds of tests that we did. We all met Ripley, and she's loaded with sensors so we can understand exactly all the forces that the crew will feel as they're launched to station from home. We got to meet the little Earth guy (laughs); I heard he's going to stay on station. Undocking, of course, some more free flight, and then we came home. We jettisoned the trunk, closed the nose cone, and then again, like I said, just beautiful parachute deployment, everything the way we expected.  All of these tests that we've been doing on parachutes, all of the analysis that we've done on understanding the aerodynamics of re-entry and coming home.  Everything was just wonderful.
The important thing now is we're going to take all of this data and we're going to apply that to the next steps. There's a lot more to do because our ultimate goal is to be able to continue to staff space station, to provide astronauts rides up to space, give them a safe place to be, a safe place to come home in, and do crew rotations every six months. So how do we get there? So we finished Demo-1, huge milestone, the next step is we take that data, we apply it, we learn from it, and we're going to go to our in-flight abort test, similar to that pad abort test that we did a few years ago. We actually will put the same Dragon that we flew on Demo-1, we're going to take that and we're going to put it on top of Falcon 9, launch it, get it going super fast to test conditions, and then escape it off of the rocket and again do the same thing, bring it home safely under parachutes, land it in the ocean.
From there, after we get that done, we go to Demo-2, and that's kind of like, wow, that's the big prize, because that's going to be sending Bob (Behnken) and Doug (Hurley)—our NASA astronauts, our partners, our friends—sending them up on Dragon and taking them to station safely and bringing them home safely.
When that's done, we'll go through final, full certification and start those six-month rotation missions, which we're all so excited about.
It's important to take a step back and think about all that it took to get here, all the work of all the joint teams—NASA and SpaceX—all the support that we've had from friends and family. Really, I think, the most important thing is that on behalf of all of the 6,000 people here at SpaceX, we really want to thank NASA, we want to thank the space station, the international partners, and thank the American public for their support and partnership as we go through this. We're really proud to be part of this endeavor.